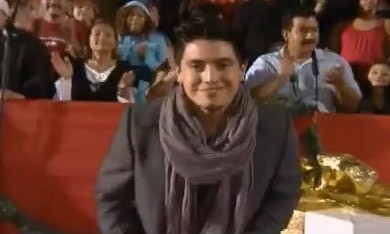 The Hallmark Channel aired the Hollywood Christmas parade tonight, and it's chock full of cheesy goodness, and C list celebrities, not necessarily in that order! Erik Estrada was one of the hosts and Marie Osmond was the Grand Marshall. So, there you go.
The parade featured performances by several Idols, including Stefano Langone, Ace Young and Diana Degarmo and the winner of this year's America's Got Talent, Eugene Landau Murphy.
Stefano Langone – This Christmas
Ha ha…Stefano Langone singing "This Christmas" on the parade route–with dancing girls! It's pretty funny. Stefano is about to announce a label deal, so lots of good things ahead for this American Idol 10 alum.
http://youtu.be/1Eev1s9syu8
Ace Young and Diana DeGarmo
Aw. It's Diana DeGarmo and Ace Young–the Idol lovebirds! Yes, they are a couple, and they are so adorable singing a duet together! Diana is currently guest starring on The Young and The Restless as the daughter of a mob boss. Ace is…uhm. Auditioning for Jesus Christ Superstar? Actually, I heard that he's shaved since this was taped.
http://www.youtube.com/watch?v=A-hJlubWIcI
Ace Young and some Children
Ace Young raps a Christmas tune with some chillrun. Thank goodness he didn't scare them with the Charles Mason deal he's got going on there. Kidding! Only Ace could pull off a cheesetastic number with kids.
http://www.youtube.com/watch?v=tIFhcPY25_M
And Eugene Landau Murphy sings "Baby It's Cold Outside" with Judith Hill.They're no Casey Abrams and Haley Reinhart! They're no Klaine either.
http://www.youtube.com/watch?v=Fgx0qZidw_A