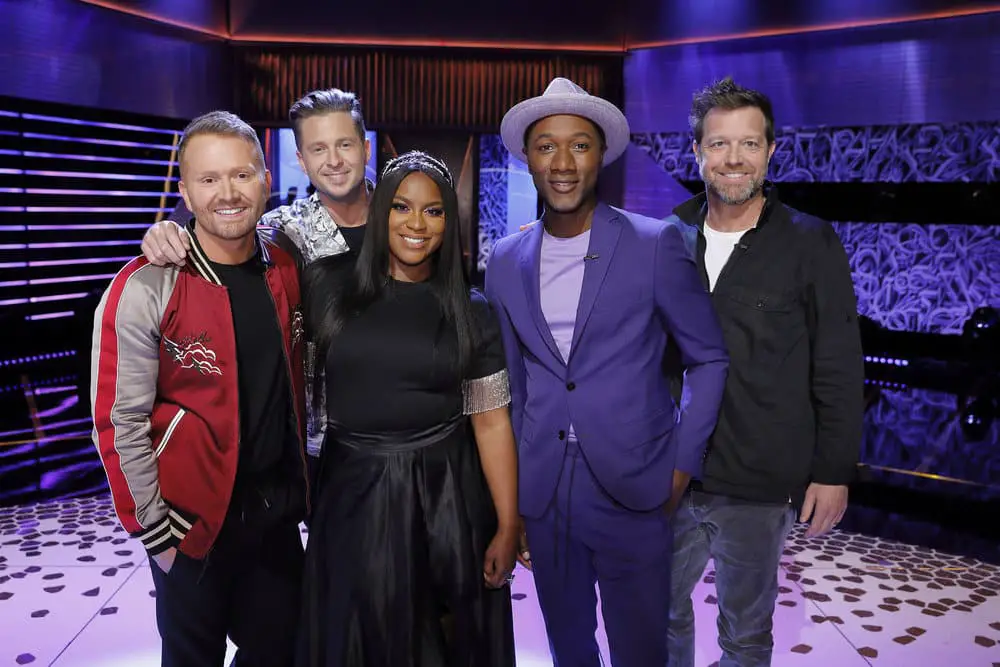 Here is everything you need to know about the sixth episode of Songland, airing July 2 after America's Got Talent on NBC. Four songwriters will present their tunes to the panel, hoping to have it recorded by this week's star artist, Aloe Blacc. The artist has a very specific goal. Aloe is looking for a song to record for the Fast & Furious Presents: Hobbs & Shaw soundtrack.
The competition features an all-star panel of songwriters and producers that include Ryan Tedder (Leona Lewis "Bleeding Love," Beyonce "Halo," and his own hits with OneRepublic), Ester Dean (Nicki Minaj "Super Bass," Katy Perry "Firework," Kelly Clarkson "Mr. Know it All") and Shane McAnally (Kacey Musgraves "Merry Go Round," The Band Perry "Better Dig Two," Keith Urban "Female,"). 
Note: After this week's episode, Songland will go on a five week hiatus, returning to the NBC schedule on a new night and time. Starting August 14, Songland moves to Wednesdays at 9 pm ET/PT, airing after the America's Got Talent results show.
Check out this week's four songwriters:
Afika – Afika Nxumalo was born to South African and Swazi immigrant parents in North Carolina. He taught a "social justice songwriting" course at Columbia University in New York City. From his bio at the Columbia website: "Afika administers his own songwriting school, hosts a travel series for Rolling Stone magazine, and writes pop songs for major label acts." Here's Afika in Montreal interviewing artists for Rolling Stone.  Back in 2013, PRI World did a piece on Afika and his NC songwriting collective. Check out Afika's Youtube and Facebook.
Kyle Williams – This Oklahoma native signed a publishing deal with Centricity Publishing in 2018. Kyle is a former member of Christian pop-rock group Stars Go Dim, and is currently a member of  the Christian band We Are Messengers. He co-penned Stars Go Dim's No. 1 hit "You Are Loved," and also co-wrote and performed on the track "Welcome To The Fire,"  which was recently licensed to  NBC's Chicago Fire, Ultimate Fighting Championship (UFC), and the film I Still See You. Check out Kyle's Facebook.
TVTE – TVTE aka Maggie Gabbard, raised in Lexington, Kentucky, is an urban pop singer. According to a bio, she was influenced by Artists like Norah Jones, Mary J. Blige and Alicia Keys. According to her Youtube page, the song "Fresh" was licenced to be used on the Dynasty season 2 premiere. Check out her Instagram, Soundcloud, Facebook.
Steve Fee –  Steve has spent over 10 years as a Christian songwriter, producer, and worship leader. He's the former frontman of his namesake band FEE. Their song, "All Because of Jesus" hit No. 2 on Billboard's Hot Christian AC Chart and No. 4 on the Hot Christian Songs chart in 2008. He won two Dove Awards, both for "Special Event Album of the Year" (Passion: God Of This City & Passion: Awakening) and was nominated for "New Artist Of The Year" in 2009. FEE's version of "All Because Of Jesus" was also recorded by Casting Crowns. They sold over 2.5 million copies of the song. Like fellow Songland songwriter Kyle Williams, Steve has a publishing deal with Centricity Publishing. He's also written a ton of songs for worship services. OH CONTROVERSY. From an interview and performance on The Wally Show: "As his song "Everything Falls" was at the top of the charts (N0 11 Hot Christian Songs, 2010), Steve Fee's life came crashing down when he confessed he was having an affair." FEE's string of hits appears to have stopped after "Everything Falls."
The 11-episode series will feature artists: Jonas Brothers, John Legend, Meghan Trainor, Charlie Puth, OneRepublic, Old Dominion, will.i.am, Kelsea Ballerini, Leona Lewis, Aloe Blacc, and Macklemore.
PHOTO GALLERY