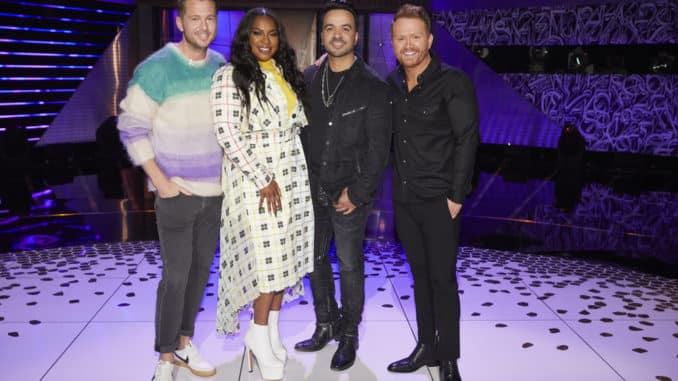 Songland season 2 continues tonight on NBC featuring Latin hitmaker, Luis Fonsi. Luis is behind the smash pop hit "Despacito" featuring Justin Bieber. In the episode, songwriters will pitch their song to the king of Latin pop and the panel. After the panel of songwriter/producers Ryan Tedder, Shane McAnally and Ester Dean work with the artists, Luis will choose one song to record. 
Everything you need to know about tonight's premiere:
Songland 2 Spoilers Luis Fonsi Episode: Meet the Songwriters
Songland 2: PipoBeats Hopes "Sway" Will Impress Luis Fonsi (Video)
Luis says he's looking for that perfect "ahhhh" moment that makes him go "I want to hear that again."
The Artists Pitch their Songs
Dyson – "Conditions" – Lauren Dyson hails from the UK and recently moved to Los Angeles from Sweden. Currently, Universal Music Publishing Group Sweden publishes her work. She wrote hits for BTS, Girls Generation, Jo Kwon and more. She's been writing songs since she was eight years old. The song is about a relationship she was in, where her partner was never satisfied. She feels it has a Latin beat Luis will appreciate. It does have a beat. Maybe with the right featured artist this song could work for Luis. Shane LOVES it. Luis doesn't feel the song works from a guy's viewpoint. So he plans on singing it? The panel tweak the words to sound less arrogant. Dyson agrees the song is missing a few elements. Ryan, who had strummed through the whole song, works on a new post-chorus. Ester tinkers more with the lyrics. Dyson is up for anything. The panel appreciates her collaborative spirit. 
https://www.youtube.com/watch?v=pQxull8sq5w
PipoBeats – Sway – Filippo Gabella better known as PipoBeats, is an American pop singer-songwriter from Los Angeles, California. But both of his parents were born in Chile. Shane tries to decipher the Spanish lyrics and it's pretty pathetic! Pipo has always wanted to write for Luis. Now, this sounds like something Luis would cut. Not only the Spanish language lyrics, but how organically Latin it is. The entire panel moves to the groove in their chairs. Luis calls it "musical caffeine." He identifies with Pipo–they are both artists with Latin roots, but tons of influences. Ryan thinks the chorus is a smash. But the pre-chorus is too complicated. Luis agrees, noodling with the melody a little on his guitar. Luis suggests some rearranging and polishing. 
https://www.youtube.com/watch?v=m8JqtJx2m2I
Lauren Martinez –  I Don't Want to Know – An indie artist, Lauren is a Los Angeles based pop producer, writer, mix engineer, and artist from Albuquerque, New Mexico. She was classically trained, and homeschooled. Lauren has always wanted to cross over to Latin music. Her breathy vocal is very pop. This is the least Latin song of the three. I'm not sure why she picked this particular tune to cross over? Hm. The panel doesn't seem overly enthusiastic. They think it has a nice melody, but needs more story. When they add the Latin flourishes the song is missing. It still doesn't sound very Latin. 
https://www.youtube.com/watch?v=1H2_pKml1pU
CORii – What If – From Morristown, New Jersey, her latest single is "Walk Away." She was living in Los Angeles, but moved back to the East coast after her husband got his residency there. The song is about a romantic relationship that ended abruptly. She's the best singer of the four. What a big voice! While it's a catchy pop song, I can imagine Luis working with this. It's got a big, hooky chorus. She's good. Dang. Luis is losing his mind. "What the hell!" Ester shouts, "What if you knew you could sing your a** off!" They note how rangy the song is, maybe too rangy. Luis would bump it down a step. Ryan imagines it as a mid tempo acoustic song, with some Latin elements. Him. I'm hearing a dance song. I'm not sure I'm loving this "tasty" version of the song. 
https://www.youtube.com/watch?v=qK_Sl7O1yH0
Luis chooses three songwriters who will advance to the producers round and they are: Dyson, PipoBeats and Lauren.  CORii is eliminated. I am really surprised Luis chose Lauren instead of CORii. He felt her song would have to be changed too much to work.
Producer sessions are next. 
Shane McAnally produces Dyson's "Conditions" – Shane LOVED the "I can't love you under these conditions," but agrees that the line is too female. He suggests the word "translations" instead.  The panel is awed by her willingness to compromise. But Dyson is the most experienced of the three. She co-wrote pop songs in Sweden for BTS. She knows how to collaborate. When Shane shares his "lost in translation" idea as a sexy vibe with Luis, he doesn't seem very excited. He calls it a "clunky" word. Shane is sticking to it, though, He and Dyson turn the song into a duet. 
Ester Dean produces Lauren Martinez's "I Don't Want to Know – Luis thinks the song has too many lyrics. During a phone session, Ester suggests pulling some of them back. "Less lyrical and more vibe." says Luis. Ester thinks the line "I Don't Want to Know" is used as a crutch, so she pares the line out of the song. What is it Lauren doesn't want to know? Ester suggests punching up the lines to tell the story. 
Ryan Tedder produces PipoBeat's "Sway" – Ryan suggests a new guitar riff to Luis over Facetime. He's all for it, as both felt the pre-chorus was too complicated. Luis also wants a new melody and lyrics for the hook. he thinks the word "Sway" is too repetitive. Pipo agrees. Ryan lays down the new guitar riff. Pipo understands that a redundant song is boring. He's OK with adding new lyrics. 
The Artists present their newly produced songs
Lauren Martinez – I Don't Want to Know – Ester brought along "Tony" to sing with Lauren. The lyrics are really different! Ester did a good job shaping the song for Luis. Now, I can imagine him singing it. Whoever "Tony" is–I love his voice. Lauren sings only backups here. "This thing just took off!" says Luis. He loves the lyrical changes. 
https://www.youtube.com/watch?v=RZs-23Zm7i0
Dyson – Lost in Translation – She notes that although the melody stayed the same, the feel has completely changed. They added a post chorus, and now, Dyson agrees, it's a much better fit for Luis. Shane admits he and Dyson were changing lyrics right up until an hour before the session. Who wrote the Spanish lyrics, though? IRO, who won the Macklemore episode last season, came by to sing with Dyson. This is why Shane makes the big bucks. I didn't know what to expect, but his concept works. VERY sexy. Luis looks happy, finally. 
https://www.youtube.com/watch?v=4R_IpTdydnE
PipoBeats – Sway – Pipo's song underwent the fewest changes. It sounds essentially the same as the original. There's that new guitar riff, and a few new lyrics. "You guys are making this hard on me," says Luis.
https://www.youtube.com/watch?v=i535sUe934Y
RESULTS
The three artists assemble in the room for the results. "This is crazy!" says Luis. He felt all three songs were improved in a positive way. He chooses "Sway" to record. No surprise AT ALL. Pipo is the only one of all the artists who comes from the Latin culture. He was born in America, but spent enough time in Latin America to soak up the influences. It was obvious that Luis identified with him musically. "This song is right for me right now," says Luis, "Because it talks to me. I feel it. I can hear myself singing it." He adds, "Ryan was able to pinpoint exactly what the song did need, simplified some melodies, added a really important 3rd line in the chorus. I can hear Ryan Tedder all over that line." 
Luis chooses PipoBeats "Sway" produced by Ryan Tedder!