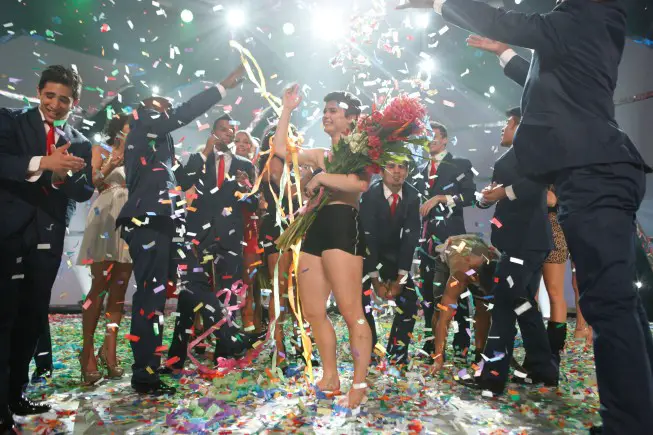 AND THE WINNER IS Melanie Moore:
4th Place Dancer: Tadd Gadduang
3rd Place Dancer: Marko Gemar
2nd Place Dancer: Sasha Mallory
I would have been OK with any of the Top 4 taking the crown tonight, so a heartfelt congratulations to Melanie Moore for her win, and to the rest of the finalists for making this season one of the best. Well, one of the best up until Finale week. Wednesday night found an exhausted group of dancers tackling too many dances. It didn't help that some of those routines were real stink bombs, and it all added up to an underwhelming end to a fine season. At least tonight we were reminded, by reprises of some of the best dances of the competition, why Season 8 was so awesome.
Can I say that I <3 Jesse Tyler Ferguson and want desperately to be his hag? Soooo glad he returned to the judges' panel tonight. Could not have taken another night of that stiff, Katie Holmes. And that by the end of the season I developed a wee little crush on Marko… /confession.
Did Nigel Lythgoe apologize to the boys tonight because he had a change of heart about telling them, point blank, last night that they could not win? Or was it because he got so much crap on twitter about it last night? I'd like to give Nigel the benefit of the doubt, I really really would.   Funniest tweet of the night: "I can smile & tell everyone they're wonderful and all deserve to win or I can be honest. I believe the competitors and viewers want honesty!" If you believe that Nigel, you need to have a little sit down with the Idol judges' panel…like stat.
IT'S THE FINALE! Who will win So You Think You Can Dance? Stick around to find out.
Tonight's reprise routines: Statues, Caitlyn's Tango, the Matrix Doors, Twitch and Sacha's breakfast, the "Wall" and the "Jail" and the winner. (Per Dizzyfeet)
Tonight's guest judges are: Jesse Tyler Ferguson, Robin Antin, Lil' C, Tyce Diorio and Sonya Tayeh.
VIDEO: IdolXfactor
Group Dance – "Wanna Get Hype" by District 78 choreographed by Sonya Tayeh
http://www.youtube.com/watch?v=petJbYJBPts
The prize is a quarter of a million dollars and be part of a G-Series print ad!
Each of the judges congratulates the Top 4, AHHH! Nigel is apologizing to the guys for dismissing their chances to take the win last night. Good for Nigel admitting he was wrong.
Now, it's time for a recap of the season. Aw. What a great season! It was set to Coldplay.
Mary Murphy would like to see Tyce Diorio's "Full Of Me" featuring Sasha and Kent. (It's the routine with the wall). Standing ovation! Such a beautiful routine.
Now, we review THE KISS. Nigel and Mary…kissing in a tree! It's a prelude to Nigel's request to see Melanie and Marko dancing the NappyTabs "I Got You" routine. This is when I began to fall in love with Marko. LOVE THIS. Oh my god. That was even better the second time.
Nigel is sitting on Jesse's lap!  Ha ha. Jesse gets a little peck on the cheek.  CHEEKY.
Robin chooses  the Mandy Moore routine, " Another One Bites the Dust" with Tadd and Lauren.
Lil C chooses the Nappy Tabs Hip Hop routine with Robert and Miranda. Remember them? BUCCCC he says.
Ohhhhh Cat Deeley is choosing a routine! The Top 8 circus routine from Tyce Diorio. And roll the tape…
The UK winner of SYTYCD, Matt Flynt, dances with Jess and Nick! "Can't Buy Me Love" by Michael Buble.  A tapper won in the UK!  Aw, both Jess and Nick should have lasted a little longer. Aw! Matt kisses Cat's hand. Now THAT was terrific. LOVE.
http://www.youtube.com/watch?v=AlpfFpR34YE
Tap dancer, Nigel, says it was one of the most exciting tap routines he's ever seen
It's Mary's turn again.  She wants to see Mandy Moore's "Total Eclipse of the Heart" featuring Melanie and Neil.
Jesse loves the All Stars! He chooses the Sonya Tayeh routine, "I Know It's Over" from Marko and Allison. This is the routine Marko dedicated to his mother. It had Lady Gaga in tears.
Tyce is next. He chooses the "nasty" Sonya Tayeh routine, "The Geishas" featuring the Top 10 girls!
Next…it's a recap of last night's Top 4 performances.
RESULTS!
Over 11 million votes came in! And Tadd Gadduang comes in 4th place. No surprise there. We say goodbye to Tadd, and he leaves with a bouquet of flowers.
http://www.youtube.com/watch?v=VFODbX_DlY8
Next, Lil C chooses a routine: Spencer Liff's "Please Mr. Jailer" feauturing Ashley and Chris.
Video package: Heather Morris, Harry Shum Jr. and Naya Rivera visit the Top 4 in rehearsals to invite them to the Glee 3D premiere! Heather says her audition for SYTYCD was "awful". Lol.
http://www.youtube.com/watch?v=VQTPvECadbE
Nigel chooses the Christopher Scott "Soggy Cornflakes" hip hop routine featuring Twitch and Sasha! Loved this one.
Sonya picks a routine, He wants to see the Christopher Scott piece for the Top 10 guys "The Matrix"
Jesse picks an Argentinian Tango, featuring Caitlyn and Pasha.
Mary  says this routine made the hair stick straight up on her arms, Travis Walls "Turn to Stone" featuring Melanie and Marko. The pair made their first big splash with this routine!
More RESULTS. Who came in 3rd? Marko Gemar! His goodbye video plays. And of course, he tears up. I LOVE YOU MARKO! Melanie is crying! Marko gets a bouquet of flowers.
It's a female Top 2!
http://www.youtube.com/watch?v=BRFsJQ2boA0
The very last reprise is chosen by Nigel, who thanks his lighting director and director before going on a rampage against the New York Times.  A panel of dancers said they will never work in New York. Nigel hopes that tonight showed them what a load of crap they were talking.  He offers as proof, the Sonya Tayeh  "Beast" routine, danced by Sasha and Melanie.
Now, for the winner.
Melanie and Sasaha are already crying. We get a little video tribute to the girls. And it's time to announce the winner…it's Melanie! The winner got 47% of the vote, the runner-up 32%. It's a decisive win.