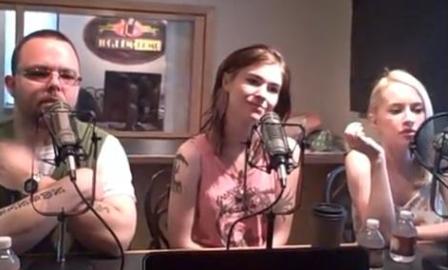 Ah ha ha ha. Siobhan Magnus totally calls out Simon Cowell for sleep walking through her season of American Idol in a recent interview with a Branson radio station. The sixth place finisher was a finalist on Season 9, Simon's last before he quit to mount X Factor for FOX.
While Season 8 Idol, Alexis Grace (She and Scott Savol were part of the interview, promoting their six week residency at the Andy William Theater) Siobhan describes a very different experience.
"I was on the last season that had Simon," explains Siobhan. "And it was so obvious to us that mentally, he was already moved on to the next show."
Siobhan explains futher, "He was not present for us. He didn't care. He wouldn't even watch the show most of the time! He'd be sitting there leaning back and puffing his cheeks out like 'Am I done yet?'" Siobhan looks at her watch to illustrate Simon's boredom.
"It was offensive," Siobhan reveals. "It was really hard."
She then goes on to recount how all of Simon's critiques of her were about her clothes.
Simon's horrible attitude during Season 9 is not news to Idol watchers. But it's interesting to hear how the contestants who had to endure his bad attitude felt about it. Siobhan used the pronoun "we" often enough to indicate there were other cast members who share her opinion.
Sharing the bill with Siobhan, Scott, and Alexis, are engaged lovebirds, Ace Young and Diana Degarmo who discuss wedding planning in a separate interview.