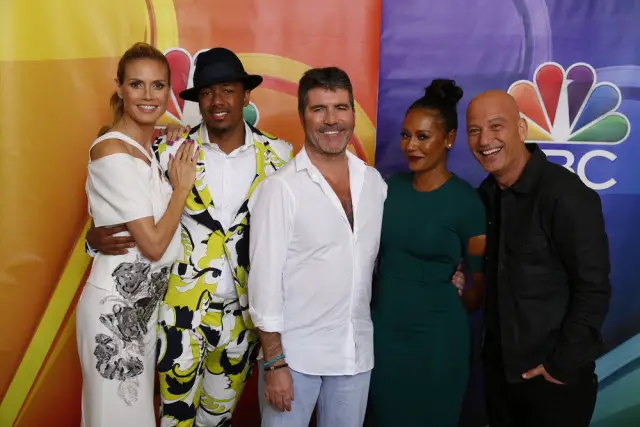 Friday was summer press day for NBC/Universal and the entire gang from America's Got Talent was in attendance. The big news was the return of Simon Cowell to American television. Since The X Factor was cancelled in 2013, Simon has had to content himself with sitting on the panels of his British shows, Britain's Got Talent and X Factor.
The producer admitted during Friday's AGT panel that he's been itching to come back. When asked what it was like being off American TV for 3 years, Simon joked, it was like a "desert. No water. No friends." While sitting in the audience of a show a few years back, he said with a laugh, "I was kind of hoping one of them would hurt themselves. … Bad enough that I would have to go, 'I'm here.' I was offered to do it five years ago, but I couldn't do it."
As far as his return Simon said, "This felt like the perfect timing, and it's been a lot of fun. It was worth the wait to come back to this." Simon will join returning judges Howie Mandel, Mel B. and Heidi Klum on the panel. Nick Cannon is returning as host.
"I was the new boy in town, and these guys without me have done an amazing job," Simon said of his fellow judges. "They have been so much fun to work with and actually so good at what they do, along with the production team who have kept this show running for so many years."
When asked if he would be returning for the American Idol finale on April 7, Simon said coyly, "There is a date clash. I don't know yet." Oh please. He's such a drama queen. He needs to make an entrance. He'll be there.
The new season of America's Got Talent premieres May 31 at 8 p.m. on NBC.