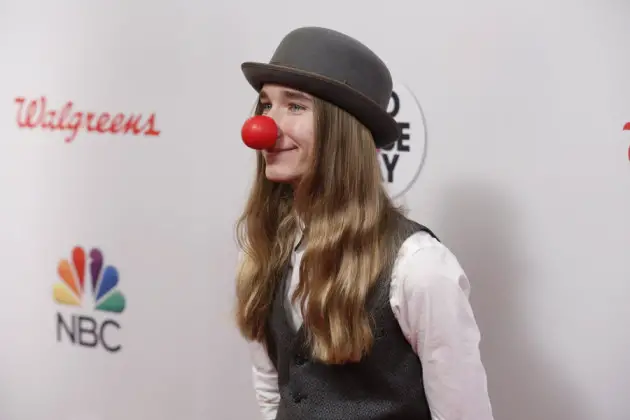 It's been an annual event in the UK for several years. Now, NBC brings Red Nose Day to the US, airing a special Thursday night as as a fun way to raise money for charities that feed children here in the US and around the world. If you want to learn more about Red Nose Day, or if you would like to donate, Click this link. The 3 hour event took place in the Hammerstein Ballroom in New York City.
Julia Roberts, Coldplay, Jennifer Aniston, Julianne Moore, Jodie Foster, Reese Witherspoon, Neil Patrick Harris, Sienna Miller, Paul Rudd, Olivia Wilde, Eddie Redmayne, Benedict Cumberbatch, Sir Ian McKellen, Orlando Bloom, Leslie Mann, January Jones, Simon Cowell, Naomi Campbell, Anna Camp, Jeanne Tripplehorn, Yvette Nicole Brown, Retta, Natalie Morales, Danny Pudi and Rob Huebel were some of the celebrities who made appearances. Gwyneth Paltrow was a surprise special guest.
The Voice winner, Sawyer Fredericks, sang "Imagine." But I hear his performance was cut off part way through. I'm sure he still managed to inspire folks to donate, even if he didn't get to finish. Also, the cast of Games of Thrones did a hilarious bit with Coldplay that had Chris Martin directing a musical version of the HBO hit. I'm going to post it here, just for fun.
Also, U2 performed "Song for Someone," Ed Sheeran duetted with Kermit the Frog, andJohn Mellencamp and Keith Urban joined forces to sing, Mellencamp's "Little Pink Houses."
Check out videos and photos below:
U2 Performs Song for Someone
John Mellencamp and Keith Urban sing Little Pink Houses
Red Nose Day – U.K. Stars Lend a Hand
Ian McKellen, Helen Mirren, Simon Cowell, Naomi Campbell, Eddie Redmayne, Benedict Cumberbatch, Sienna Miller and Robert Pattinson lend Seth a hand at Red Nose Day.
https://youtu.be/GEJCg67Fe8Q
Kermit and Ed Sheeran's Rainbow Connection
https://youtu.be/SwVIMN7m-lw
Game of Thrones – The Musical!
If you're a fan of the show, this is a must-watch.
Photo Gallery
Photos of Sawyer Fredericks on the red carpet and performing. Keith Urban and John Mellencamp perform.