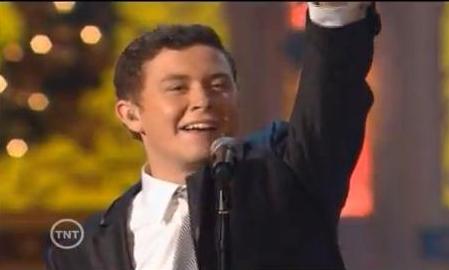 Christmas in Washington featured artists from some of your favorite singing shows! The roster includes Scotty McCreery (American Idol s10 winner), Demi Lovato (X Factor judge), Chris Mann (The Voice 2 alum) and Megan Hilty (Smash).
I left in introductions from host Conan O'Brien because they were pretty hilarious. Scotty's especially. The first family had a front row seat. Check out the shots of them bopping along with the music.
Christmas in Washington aired on TNT Friday Night.
Check out the performances below.
Demi Lovato – All I Want For Christmas is You
Chris Mann with the  US Naval Academy Glee Club – I'll Be Home for Christmas
Scotty McCreery – Santa Clause is Back in Town
Medley of Christmas Carols
Scotty McCreery (Mary Did You Know), Demi Lovato (Silent Night), Megan Hilty (O Come All Ye Faithfull), Chris Mann (O Holy Night) + Bonus Diana Ross (Amazing Grace)