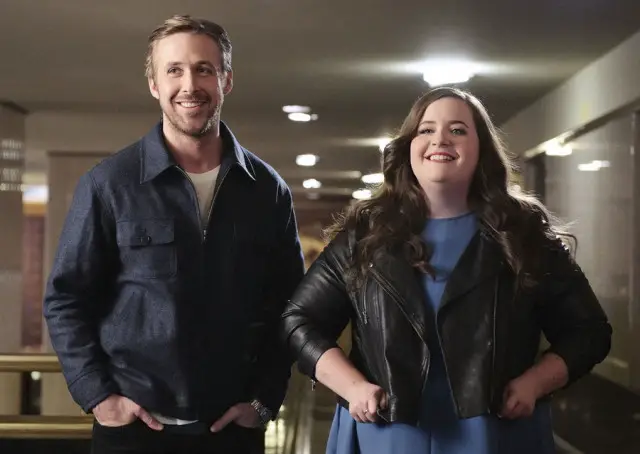 Ryan Gosling Skits Saturday Night Live
Ryan Gosling couldn't keep a straight face as host of Saturday Night Live this week (12/5). He "broke" in nearly all of his skits, which was kind of annoying after a while.
His standout moment was as the Ray Bolger flavor of the scarecrow, who met his counterparts in The Wiz after getting lost on the "other side of town." It was a canny impression–from the vocal inflections to the rubbery body movements. I also appreciated Leslie Jones as The Wiz and Sasheer Zamata's Dorothy. I was hoping the entire cast of The Wizard of Oz would eventually arrive. Nevertheless, it was a fun, clever bit.
Other standout skits included the dating app parody "Settl." Any time the female cast members are brought together for a skit is a win. And Taran Killam did a spot on George Clooney without even saying a word in the takeoff of those weird Nespresso ads with George and Danny DeVito.
The Donald Trump cold open fell flat. After Trump hosted a few weeks ago–NBC giving him a platform to promote himself–the show's attempt to take him down can't seem anything but lame and hypocritical at this point.
Former SNL castmate, Mike Myers, dropped in to sing a "Canadian Christmas Song" with fellow Canadian, Gosling, and saved the day. I can't even imagine how dull that opening bit would have been if the host had been left to entertain the audience on his own.
Watch all of the Ryan Gosling Saturday Night skits right here. The musical guest was gospel/R&B artist, Leon Bridges. Click this link for his performances.
Donald and Melania Trump Christmas Cold Open
Donald (Taran Killam) and Melania Trump (Cecily Strong) reveal who is on Donald's naughty and nice list.
Ryan Gosling Canada Monologue
Ryan Gosling celebrates his Canadian roots with Mike Myers and a Canadian Christmas song.
Settl
Settl: The dating app for women looking to have tons of okay dates.
Nespresso
George Clooney (Taran Killam) preps Danny DeVito (Bobby Moynihan) for his first taste of Nespresso.
The Wiz
West Oz's Scarecrow (Ryan Gosling) mistakenly ends up in East Oz with Dorothy (Sasheer Zamata), Cowardly Lion (Kenan Thompson), Tin Man (Jay Pharoah), Scarecrow (Michael Che) and The Wiz (Leslie Jones).
Close Encounter
Three people (Kate McKinnon, Cecily Strong, Ryan Gosling) share very different stories about their alien abduction.
Santa & The Elves
Santa's elves (Kenan Thompson, Vanessa Bayer, Ryan Gosling) purposely don't make any toys in the hopes that Santa (Bobby Moynihan) will punish them.
Santa Baby
Doug (Ryan Gosling) and Gina (Vanessa Bayer) make everyone at the neighborhood holiday party uncomfortable when they demand to meet the real Santa.
Birthday Party
Melanie (Aidy Bryant) creeps out her friends when she hits on birthday girl Taylor's dad (Ryan Gosling).
Hometown Bar
Trevor (Kyle Mooney), a high school classmate of Ryan Gosling's, interrupts his interview with a GQ reporter (Cecily Strong) to share embarrassing stories about him.
Weekend Update 12-5-15, Part 1 of 2
Weekend Update anchors Colin Jost and Michael Che tackle the week's biggest news, including Congress defunding Planned Parenthood and the most popular name for girls. Glamour magazine reporter Jill Davenport (Cecily Strong) stops by.
Weekend Update 12-5-15, Part 2 of 2
Weekend Update anchors Colin Jost and Michael Che tackle the week's biggest news, including Kylie Jenner's controversial photo shoot and the dating site Mouse Mingle. Secondhand news correspondent Anthony Crispino (Bobby Moynihan) stops by with third-hand news guy Angelo Skaggs (Ryan Gosling).