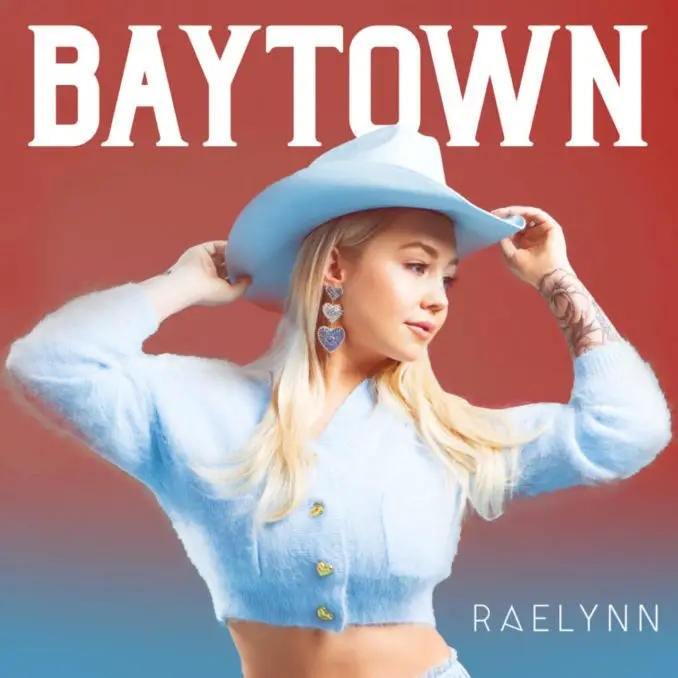 RaeLynn has officially dropped her full-length album Baytown, releasing the new project this week (9/24). Her first LP on Round Here Records and second to date after her 2017 debut Wildhorse.
"Baytown is a record where you can find a little bit of everything. If you know me, you know I love to dance, get rowdy and have a good time, but you also know that songwriting and talking about hard subjects is something I will never steer away from," RaeLynn shared in a press statement.
The Voice season 2 alum continued, "Country music is my heart and soul and I fell in love with it when I grew up in Baytown, Texas. Everything that I am and what I represent is imprinted with my hometown in my heart. No matter what I do, what I sing or where I live, Baytown will always be represented because it made me who I am today. On some level we all feel that way about where we were raised. I can't wait for y'all to dive into this record and see the place you grew up come to life."
The follow-up to her 2020 EP of the same title, Baytown is a completion of that project, rounding out the out the record with eight new tracks. Ahead of Baytown's release, RaeLynn shared several new songs with fans including the  small-town tribute "Only In A Small Town" and "Made For Me To Love," the Texas native's message to her newborn daughter, Daisy Rae.
"It's like if Cardi B and Dolly Parton had a baby"
"I felt like there was more of the story that I wanted to tell," Raelyn explained to Taste of Country on why she expanded the EP. "And I always had a feeling that it would be more than six songs."
"The best way for me to describe Baytown is country people with a little grit and sass." She told Music Row. "It's like if Cardi B and Dolly Parton had a baby. It's fun, but a little ratchet in the best way."
Baytown also includes RaeLynn's collaboration with her mentor and former The Voice coach Blake Shelton,  "Why I Got A Truck," as well as a feature with Mitchell Tenpenny on "Get That All The Time."
Listen to RaeLynn's Baytown including her duet with Blake Shelton "Why I Got a Truck"
BAYTOWN TRACK LIST:
 "Keep Up" – (Racheal Lynn Davis, Corey Crowder, Tyler Hubbard, Steven Lee Olsen)
 "Still Smokin'" – (Racheal Lynn Davis, Corey Crowder, JR Rotem)
"Fake Girl Town" – (Racheal Lynn Davis, Cameron Montgomery, Daniel Ross, James McNair)
"Judgin' to Jesus" – (Racheal Lynn Davis, Brett James, Ferras Alqaisi, TJ Routon)
"Me About Me" – (Racheal Lynn Davis, Bob DiPiero, Jeff Garrison)
"Bra Off" – (Racheal Lynn Davis, Josh Kerr, Emily Weisband)
"Neon Cowgirl" – (Racheal Lynn Davis, Corey Crowder, Brandon Kinney)
"Small Town Prayer" – (Racheal Lynn Davis, Drew Kennedy, Ben Stennis)
"Get That All The Time (feat. Mitchell Tenpenny)" – (Racheal Lynn Davis, Corey Crowder, Tyler Hubbard, Kane Brown)
"Only In A Small Town" – (Racheal Lynn Davis, Corey Crowder, Rhett Akins)
"She Chose Me" – (Racheal Lynn Davis, Josh Thompson, Jimmy Robbins)
"Why I Got A Truck (feat. Blake Shelton)" – (Racheal Lynn Davis, Corey Crowder, Tyler Hubbard)
"Rowdy" – (Racheal Lynn Davis, Corey Crowder, Randy Montana, Emily Weisband)
"Made For Me To Love" – (Racheal Lynn Davis, Drew Kennedy, Ben Stennis)