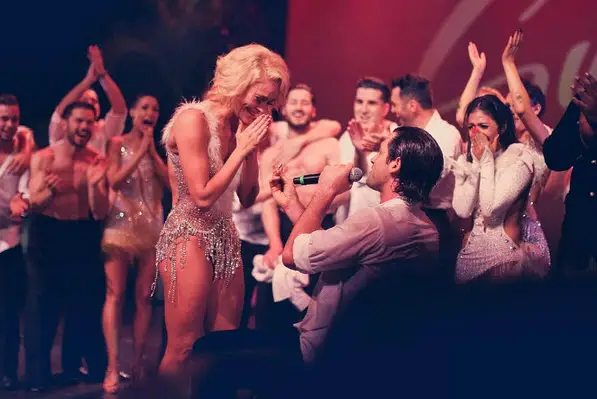 The rumors are confirmed: Dancing with the Stars pros Peta Murgatroyd and Maksim Chmerkovskiy, who got engaged in December, are expecting their first child.
"I can't wait to provide this baby with the tools to become a beautiful, kind person," Maksim told People magazine in their latest issue. "And they'll have the best sneaker collection."
Peta and Maksim learned they were expecting just a few weeks into season 22 of Dancing with the Stars.
"I was so sick," Peta says of her first few months of pregnancy, which coincided with competing on the program this past spring. However, that didn't get in the way of her winning the coveted mirrorball trophy alongside deaf model, Nyle DiMarco.
In her second trimester Peta is feeling better and enjoying life on the road with Maksim, who is currently touring with his brother Valentin in Maks & Val: Live on Tour.
"I'm looking forward to nurturing something and just having the baby be the center of our world," Peta said. "I'm looking forward to putting all our energy into this beautiful soul."
The couple weren't planning on starting a family until after their 2017 summer wedding, but they've since adjusted to the new timeline.
"The timing is perfect, actually," said Peta. "I'll have the baby in January and then I'll still have about six months to prepare for the wedding."
They still don't know the sex of the baby, but Maksim jokes that "we'll be in trouble with a little me running around. So hopefully they'll be a lot like Peta."
It looks like we can cross Peta off the list of pros dancing this fall on Dancing with the Stars Season 23! DWTS returns to ABC on September 12.
We couldn't be happier ?? Baby Chmerkovskiy is coming ?? pic.twitter.com/RPOl5sK1t3

— Peta Murgatroyd (@PetaMurgatroyd) June 29, 2016