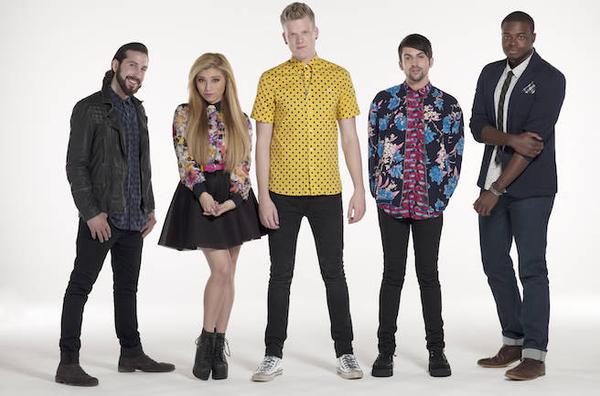 It all comes full circle for a'cappella singing sensation, Pentatonix. The quintet got its start as contestants, and eventual winners, on NBC's The Sing-Off in 2011. And now, the group will perform the Thursday Night Football show open! What a gig. Ask American Idol's Carrie Underwood who performs the Sunday Night Football show opener.
Check out the NBC announcement, along with a schedule for all the games below.
STAMFORD, Conn. – October 25, 2016 – NBC, the only network with two primetime NFL packages, has selected Grammy Award-winning and multi-platinum recording artist Pentatonix to perform the show open for its new Thursday Night Football package.
Pentatonix will sing and perform "Weekend Go," the new Thursday Night Football opening theme. "Weekend Go" is inspired by their original hit "Sing," which has amassed nearly 17 million views on YouTube. "Sing" is from Pentatonix' self-titled certified gold album that debuted at No. 1 on the Billboard 200 last fall.
The show open celebrates the start of the NFL weekend, with game highlights and player cameos. It kicks off the nine NBC-produced TNF games, beginning Thursday, November 3, when the Atlanta Falcons visit the Tampa Bay Buccaneers on NFL Network.
"Pentatonix, with millions of young fans, are the perfect choice for our show open as we debut Thursday Night Football," said Fred Gaudelli, Executive Producer of NBC's Thursday Night Football and Sunday Night Football. "'Weekend Go' combines their mega-hit with spoken word for a fresh new approach to kicking off the weekend. We're excited to get started on Thursday Night Football and look forward to premiering the show open."
"Being a part of NBC's Thursday Night Football is such an incredible opportunity for us," says the group.  "We have seen so many legendary artists work with the NFL and feel so honored to join them this year. We had so much fun reworking the lyrics to our song "Sing" and hope people love it!"
Since bursting onto the scene in 2011, multi-platinum selling recording artists Pentatonix have sold roughly 3.5 million albums in the U.S. alone, won 2 Grammy Awards, sold out venues worldwide, have amassed over 1.6 billion views on their YouTube channel which is approaching 11 million subscribers and appeared in the feature film Pitch Perfect 2.  Their latest release, Pentatonix debuted at #1 on the Billboard Top 200 and Current Albums Chart and is certified gold by the RIAA.  The first single, "Can't Sleep Love" has more than 22 million views on YouTube.  The group's holiday album, That's Christmas To Me, is certified double platinum by the RIAA and features their recent 2016 Grammy winning track, "Dance of the Sugarplum Fairy." The group recently released its new holiday album A Pentatonix Christmas.
All 7 of their releases have peaked within the Top 5 on Billboard's Digital Albums Chart with 6 of those releases reaching the Top 10 or higher on the Billboard Top 200 Album Chart. The group received 2 gold certifications for their Grammy Award winning "Daft Punk" medley and cover of Imagine Dragons' "Radioactive" ft. Lindsey Stirling. That's Christmas To Me was the 4th best-selling album of 2014. The group released their very first documentary (On My Way Home) which follows the quintet on their sold out 2015 North American Tour featuring behind-the-scenes footage, live performance and the making of their debut studio album, Pentatonix.  The group continues on their 2016 World Tour in support of their self-titled gold certified album and will return back to the US in October. Pentatonix won Season 3 of NBC's The Sing-Off.
The song will serve as the show open to the following Thursday Night Football games:
Thurs. Nov. 3 – Atlanta Falcons at Tampa Bay Buccaneers – NFLN
Thurs. Nov. 10 – Cleveland Browns at Baltimore Ravens – NFLN
Thurs. Nov. 17 – New Orleans Saints at Carolina Panthers – NBC, NFLN **
Thurs. Dec. 1 – Dallas Cowboys at Minnesota Vikings – NBC, NFLN **
Thurs. Dec. 8 – Oakland Raiders at Kansas City Chiefs – NBC, NFLN **
Thurs. Dec. 15 – Los Angeles Rams at Seattle Seahawks – NBC, NFLN **
Sat., Dec. 17 – Miami Dolphins at New York Jets – NFLN
Thurs. Dec. 22 – New York Giants at Philadelphia Eagles – NBC, NFLN **
Sun., Dec. 25 – Baltimore Ravens at Pittsburgh Steelers – NFLN