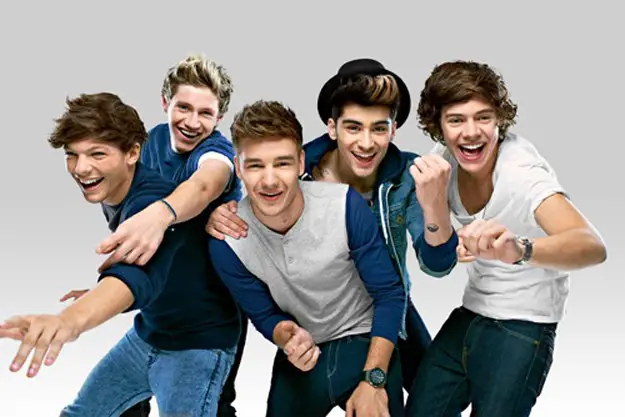 One Direction fans worldwide took to twitter to express their anger after a documentary starring a group of devoted 1D fans aired on Channel 4 in the UK Thursday night.
Crazy About One Direction explores the extreme side of teen fandom, as it follows a group of obsessed Directioners (as the fans are called) as they stalk the boys from hotel rooms and lobbies, to venues where they are performing, to their family homes on the group's day off. In interviews, fans admit to hating the girlfriends who get in the way of their fantasies. There are death threats leveled at band members. And Taylor Swift better watch her back.
The documentary also delves into "shipping." Fans obsess over celebrity couplings that may or may not exist in real life. In the case of One Direction, Harry Styles and Louis Tomlinson–who both identify as straight–are the favorite "ship."  It's highly HIGHLY unlikely they are a couple. But don't tell the fans who adore "Larry" as they devour x rated fan fiction and art. They'll just give you the hand.  (Hilariously, one of the super-fans reads a fic out loud.)
Of course, every fandom has their extreme members. Unfortunately, the uber-stans are also the loudest and the most intrusive. Sadly for the celebrities, the crazies may be the only fans they are mostly exposed to via social media and real life (scary) encounters, as the saner variety keep to themselves because they are, you know…SANE. Also, the OTT fans are a hell of a lot more entertaining. In that regard, I think the fans who are angry have a point. Why not expose viewers to a wide cross-section of fans?  Because sanity doesn't attract eyeballs.
I totally admit that I will cruise tumblr tags with a bowl of popcorn in hand, perusing the cray. What I've found are narratives that are pretty much the same across various fan groups. But I digress. Maybe I'll delve deeper into the subject of recurring narratives in the fandoms I follow in another blog post.
UPDATE: Liam Payne supports the fans:
"We couldn't give a f**k what any documentary says there dramatised for entertainment and full of bulls**t anyway we all know how hard you work for us and see it everyday at our shows, Let's all take a step back and think about what we/you have all achieved. You should be proud."
Read more at MTV UK
In the meantime, you can watch the entire documentary right here.
Or, just check out the 2 minute teaser here:
The Directioners have been trending the hash tag "This Is Not Us" on twitter for HOURS.  A search brings up hundreds of new tweets in a few minutes (at midnight-ish ET as I write this). The phrase is a play-on This is Us, the title of the 1D documentary coming to theaters soon.
Some of these fans seem to totally lack self-awareness. While they complain about being treated unfairly, and insist they aren't, in fact crazy, there are numerous tweets from fans that believe dozens of directioners killed themselves after watching the movie. There is no evidence anywhere that even ONE fan attempted suicide after the program aired.
I hope you are happy Channel 4 and Elounor haters. You cause not 1, not 2 but 28 beautiful lives to be gone. #THISISNOTUS

— ~CindyMorales~ (@PenguinStorm13) August 16, 2013
#OneDirection #THISISNOTUS #RIPLarryShippers #WeAreNotTheGirlsFromChannel4 #WeLove1D pic.twitter.com/1Sfd9KL9IQ

— Annie Savory (@Annie_Savory) August 16, 2013
they don't understand this fandom!!! We all ship different things but some how we r a family!! I'd like to see adults do that! #THISISNOTUS — K@€£@Ñ¡ (@StepOutTheMira) August 16, 2013
Well Channel 4, if your plan was to make directioners feel like complete trash and worthless. You did it. #thisisnotus — ? (@Nayeli1D_) August 16, 2013
we're a bunch of teenage girls let us b happy with OUR boys.we're a huge army of directioners & gonna stand up for what we love #thisisNOTus — camEEla cabeYo (@_obey_styles) August 16, 2013
#ThisIsNotUs 2nd of all the other 96% are REAL fans they aren't that crazy… CHANNEL 4 you made us look like psychos. — Nialler ? (@hey_its_chely) August 16, 2013
#THISISNOTUS All I want to do is meet them. All I want is 1/5. All I want is the reason for my happiness to acknowledge my existence. — ? dannie ? (@heyimdannie) August 16, 2013
A lot of respect to all of the fandoms who are supporting/sticking up for us:) so thank you x #thisisnotus pic.twitter.com/INwAKsFVLW

— Ellaa Hardy (@Ellaa_1D_Hardy) August 16, 2013
#thisisnotus 90% of the fandom: haven't met the boys don't send death threats & we sit behind a computer voting & tweeting all the time

— Eleni1D (@Eleni_ps2) August 15, 2013
Via OhNoTheyDidn't, DigitalSpy