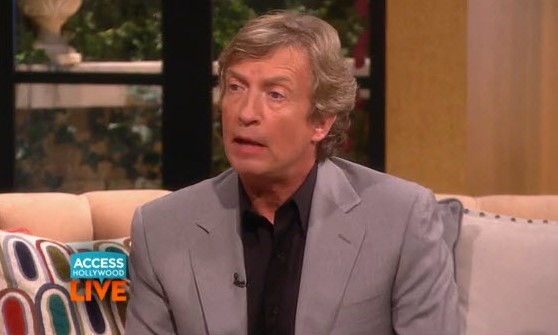 Ex American Idol producer, Nigel Lythgoe, told Access Live today, that in order for to turn around  the ailing show, new producers have to get the chemistry back with the judges.  Each of the judges, including Randy Jackson, Mariah Carey, Nicki Minaj and Keith Urban were fantastic individually, but didn't "sit comfortably together." Nigel revealed there was no screen testing at all before they were hired.
As far as fixing Idol, Nigel advised, "We've got to get the family back together again. If you can put a program there that is family entertainment they will come and watch together and enjoy it.
As far as star power on the panel, Nigel believes they need it nowadays. "Simon became such a big star, you need a star to replace him." But by the same token, "just because you are great at one thing," said Nigel."Doesn't mean to say you are going to be great at judging."  He believes X Factor hired Britney Spears last year because viewers would tune in to see if she would crash and burn. "It didn't work." he said.
"Putting two women together to see if they would tease some aggravation doesn't work either," Nigel said, obviously referring to the reasoning behind putting two volatile diva stars like Nicki and Mariah together. He explained that FOX felt putting two female stars together that represented different generations would bring everyone together.
"It doesn't work," insisted Nigel, "You go for an entertaining middle group. No young kids are going to tune in to see Blake [The Voice]. At the same time they are now because he's a wonderful character."
If Nigel had his way last season, he would have had Jennifer Lopez, Keith Urban and Harry Connick Jr. on the panel.
Chemistry, fun and humor is necessary, Nigel stressed. "You can't take this too seriously." he added, "At the end of the day, the winner of this will go on to be a multi-millionaire." (Hm.)
During the same interview, Nigel shared his thoughts on Simon Cowell's impending fatherhood.
"Yes, I seriously was [stunned]. I thought he was confirmed bachelor, I don't think he thought this relationship would go anywhere," Nigel continued. "It was his best friend's wife. So, I think it came as a surprise to everyone really. He'll probably tell the kid off, every day!"
Nigel's suggestions for baby gifts included "Nappies just a little too high, little black t-shirts,"