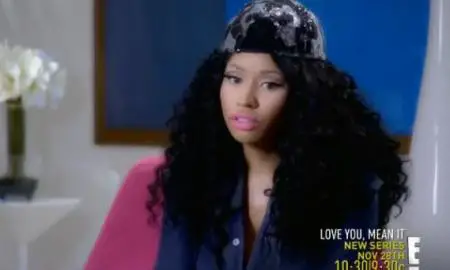 In Part 2 of the Nicki Minaj E! reality show, My Truth, the American Idol judge dishes on the feud with fellow judge, Mariah Carey.
Nicki, ensconced on a private jet, says she felt good when she left the Idol auditions the day before. Then she heard that Mariah went on The View with the "fabrication" that "even the producers told her was never said…telling Barbara Walters that I said something about a gun."
"My jaw was dropped open," said Nicki, "never in my life did I say anything regarding a gun."
Nicki is pissed that Walters didn't call to get Nicki's side of the story. "Am I not good enough for you to get my side?" Nicki complains, "because I'm a little black girl that raps?"
"Because if I was Jlo," charges Nicki, "You would have called Jlo's camp."
Nicki claims that prior to working together on Idol, she had no beef with Mariah, "Why would I want to have a rift with someone I looked up to my whole life?" she wonders.
"What people saw was a reaction," says Nicki of her behavior displayed on the profanity-laced tape released to TMZ, "It was just a lot of passive-aggressive comments" that got under Nicki's skin.
"It's just a ploy to get me off the show," claims Nicki, "But we're going to keep it moving…ain't nobody going to run me off that motherf*cking show."
ETA: In another clip, Nicki asserts that the meltdown with Mariah began because the singer "egged" her on. She left the stage because she didn't want to get into it with Mariah, but when she returned, "it was another jab." Mariah admitted that she did not want another female doing the show. "Nitpicking, nitpicking nitpicking," says Nicki, "I don't do well with that passive-aggressive sh*t." Nicki said she made it clear to Mariah, "If you do that again, I'm going to do this again. I'm not going to allow it no more." This went down before Mariah talked to Barbara Walters.
The third and final part of Nicki Minaj: My Truth airs on E! next Sunday.
Watch Nicki dish on the feud below:
http://youtu.be/TW8Fi0vX0Sk
Nicki Explains what happened on the set (begins at the 3:25 Mark)
http://youtu.be/OUxZT3iTs5k