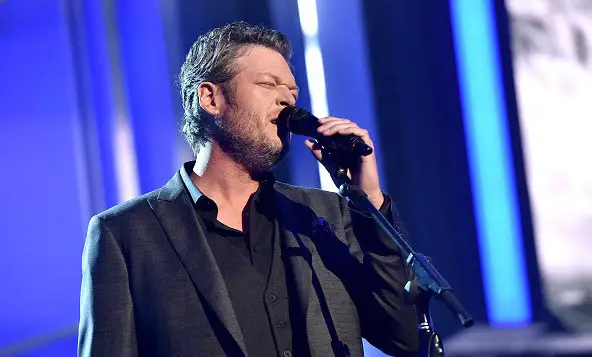 I thought it was a little odd that more media outlets didn't pick up on the recent kerfuffle over Blake Shelton's alleged racist, homophobic and misogynist tweets. The New York Post is claiming NBC put the kibosh on reportage of the latest controversy concerning the veteran The Voice coach.
After social-media mavens managed to dig up the offending messages — which were posted between 2010 and 2011, before Shelton became a household name — we're told that publicists for the NBC talent show called at least one major media outlet and threatened to cut off access to the show's stars, and tapings, if it continued to cover the kerfuffle.

Sure enough, while links to stories about the fan backlash and his family's reaction can still be found on a certain entertainment news site, by Tuesday they led to blank pages.
Oops. The only story that turned up in my Google alerts came from the UK's Daily Mail–out of the reach of network publicists by proximity. The website posted supposed screen grabs of the offending tweets.
I figured outlets decided not to pick up the story because there really is no definitive proof the tweets actually exist. Some other tweets reportedly said:
"flying home to sleep with two young blonde and black haired bitches.
Referring to then 16 year old Dakota Fanning, he wrote "Soo .?.?. I just figured out a great excuse for my sick fantasy about Dakota Fanning. I thought she was Amanda Seyfried."
"If you haven't noticed Richard Simmons is gay, you haven't noticed Katy Perrys boobs… (sic)."
Said a Page Six source, "His people think this will blow over, but as the scandal unfolded reps for 'The Voice' called at least one site and asked them not to run [coverage] in exchange for continued access to the show," which might include perks like interview opportunities with stars Christina Aguilera and Adam Levine, as well as tickets to tapings.
Hm. Anybody who follows Blake on twitter knows he loves to stir the pot and routinely pisses people off with his proudly un-PC sense of humor. In a recent controversy, Blake became furious at Gossip Cop, which ran a headline declaring Blake had endorsed Republican candidate for US president, Donald Trump.
It's true, Blake has never explicitly endorsed the polarizing presidential candidate. However, he DID say in the interview with Billboard magazine, the basis of the Gossip Cop report:
"In country music, we're so politically correct and so afraid to possibly upset someone," he says, which led to him being asked if he "supports" Trump. The singer responds, "I'm not going to have the political conversation with you about Trump, or about Hillary Clinton, but I will tell you this: Whether you love him or hate him, he says what he thinks, and he has proven that you don't always have to be so afraid."
So, he admires The Donald's penchant to say whatever. It's not a stretch to imagine Blake as the author of those offensive tweets, to be honest. It also is not a stretch to imagine The Voice publicists scrambling to tamp down the controversy. Because that's just embarrassing.
UPDATE: Blake has released a statement via twitter responding to the controversy
— Blake Shelton (@blakeshelton) August 17, 2016
IF you're offended he's sorry! The non-apology apology. Also: He basically confirms the tweets were real.