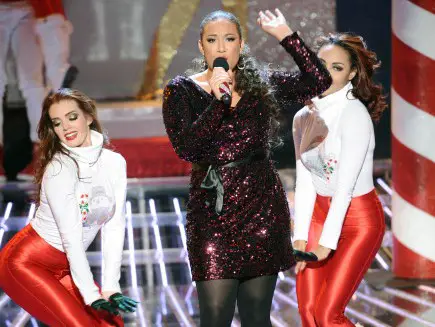 X Factor winner, Melanie Amaro took questions today (accent free!)  from reporters via teleconference.  Melanie thinks she might have done 30 interviews this morning.  Yes. She was a little punch drunk!  She told the conference she virtually had no sleep last night. Girlfriend? Get a nap!
Here are some of the highlights:
On who she felt was her biggest competition.  Chris Rene.  "Everyone knew that he was an original artist, and was her biggest competition because everyone knew he was an original artist… and connected well with everyone."
Melanie feels could not have won without Simon as her mentor, "I don't think that I would have gone very far at all.  I needed Simon to be that tough judge that he was with me in order for me to grow.   For me? I needed Simon."
The "Island Patois" outburst wasn't planned or calculated, " To honest, that really wasn't planned. Something  came over me during that performance. It really wasn't planned."
Was she surprised when Simon came to get her? Was that planned? "That was a total surprise. I had no idea he was coming.  When he showed up it was like 'oh my God'."
Simon was really nervous backstage, "He was more nervous than I was backstage. He kept saying to me 'I'm nervous…my stomach is in knots.'  I kept saying 'Why are you so nervous. I'm the one that's supposed to be nervous!'"
Melanie thinks LA Reid is "wonderful" and would like to work with him. She'd like to work with Mariah Carey.
Was it hard for Melanie to forgive Simon for sending her home? "No. He was so sincere about coming back to my house and apologizing about everything.  I could not stay mad at all.  I was hurt at first.  I forgave and forgot. I made peace with it."
Did she imagine that she would win the whole thing? "No. I should have really believed in myself. I kept thinking that I wasn't good enough."  After she let the accent out she felt like she was going to go far, because "I had accepted myself for who I was and was going to go far regardless of the competition. I started to believe in myself."
She refused to reveal details about her album, Wouldn't even answer the question "What kind of album would you like to make".  She says, "I'm going to keep that as a surprise.  I'm going to make some great music."
The most important thing the competition taught her about herself, "I can sing any type genre of music and actually do it very well."
What she plans to do with the 5 million dollars, "I'm definitely going to buy myself a foot massager…and my Mother a house."
When pressed about whether Simon coming to get her was  made for TV or not, "I don't know…I don't know. All I know is that he made a mistake, he apologized about it. I moved on from it. And look at where I am now."  Two weeks had elapsed between when Simon cut her at the Judges Homes and when he arrived at her house in Florida. (She was clearly uncomfortable at this point)
On her relationships with the other contestants, "We were all very close. We were all great, wonderful friends.  We got used to being around each other.  For someone to leave our little group, it really impacted all of us."
What did Melanie think of her talent compared to the other finalists? "My talent was a gift. I had a big range, a stronger range than a lot of the other contestants.  With me doing what I do, with all of my heart put me apart of all of the other contestants.  When I sing, I sing all of me, I sing to the very very pit of my soul. Because it was something that I truly enjoyed.
Good Day LA
Melanie Amaro Talks Winning The X Factor: MyFoxLA.com
Good Day New York
Melanie Amaro Wins 'The X Factor': MyFoxNY.com
Fox and Friends