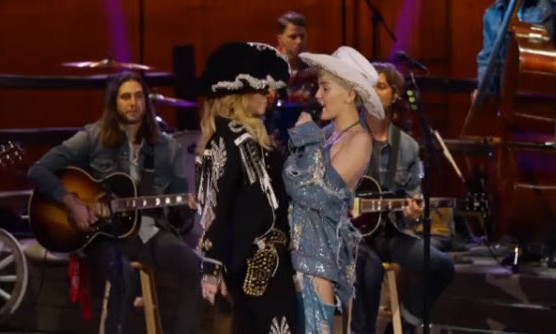 The buzz around Miley Cyrus' MTV Unplugged episode got even buzzier when it was announced that the twerk-happy singer would be joined on stage by her elder-in-outrage, Madonna.
And the result, from the rhinestone-studded duo, is pretty boring! The two languidly go through the motions–performing a mashup of their two hits, "Don't Tell Me" and "We Can't Stop" with the expected grinding, tongue wagging, and butt slapping–with all the enthusiasm of an office worker watching the clock.
And the vocals. The acoustic setting means there is nowhere to hide. They can barely sing in unison without losing pitch.
Madonna and Miley have both milked outrage beyond its efficacy, with Miley's cycle being very quick, indeed.
What do you think of Madonna and Miley's duet?