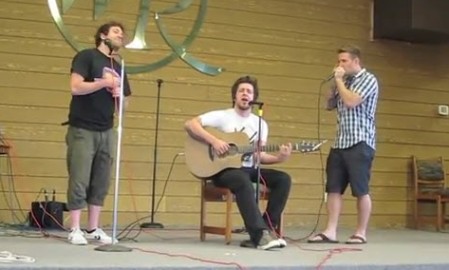 Lee Dewyze, Blake Lewis and Elliott Yamin recently performed "Hallelujah" for a crowd at an outdoor stage in Branson, MO.
The trio was promoting their "Finalists Live" show at the Andy Williams theater. The concert, which runs  through June 16 before another batch of Idols takes over on June 18, also features fellow finalists Kimberly Caldwell and Thia Megia.
I don't know how well attended these shows are, but Elliott was on twitter complaining about management dropping the ball on promotion–tweets that were later deleted.
When in Branson, opportunities to meet the stars from yesteryear are everywhere! Just  recently the guys met 70s  pop star, Tony Orlando. Here's a photo. Ha ha. No Dawn?