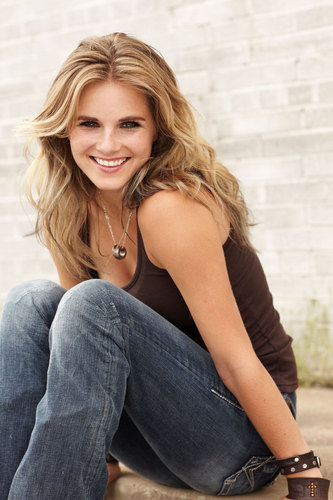 Check out video of 3 new songs Season 7 7th place finisher Kristy Lee Cook debuted at the Wildhorse Saloon Thursday night!
Season 7 7th place finisher Kristy Lee Cook has been signed to Broken Bow Records since October 2010. When she hasn't been busy deciding the last 5 winners of American Idol, she has also been working on new music. She recently tweeted to a fan that they're "looking at July" for the launch of a new single. Kristy Lee has been working on the new music with production company New Voice Entertainment, founded by band members of her labelmate Jason Aldean.
Check out video of 3 new songs by Kristy Lee from Thursday's Broken Bow/Sirius XM Radio Concert For Cystic Fibrosis:
Video courtesy ChristianLamitschka
We can make educated guesses about the titles ("Good Timin'", "I Don't Care", and "Whatcha Gonna Do"? The last one not to be confused with the Martina McBride song on her current album) but none of them appear to on the list of registered Kristy Lee Cook cowrites. Her list of known collaborators includes a few songwriters who wrote songs on her debut album (Victoria Banks, Heather Morgan, and Rachel Proctor), songwriters with cuts on Jason Aldean's current album (Jaron Boyer, Jon Mabe, David Lee Murphy and Ben Stennis), Lonestar's Dean Sams, Amy Dalley, and a bunch of established Nashville songwriters (including New Voice Entertainment partner David Fanning, Shane Minor, Billy Montana, Mark Narmore, Liz Rose and Phillip White).
"Breaking Me" (Kristy Lee Cook/Mark Narmore/Phillip White)
"Deal With It" (Kristy Lee Cook/Mark Narmore/Phillip White)
"Hand Me Down Jeans" (Kristy Lee Cook/David Gibson/Dean Sams)
"I Want That Feeling" (Kristy Lee Cook/Amy Dalley/Dean Sams)
"Keep Dreaming" (Shane Minor, Kristy Lee Cook, David Lee Murphy)
"Lay Me Down" (Kristy Lee Cook/Mark Narmore/Phillip White)
"Layin Down The Law" (Jamie Jarbeau, Victoria Banks, Kristy Lee Cook)
"Little Bit Of Sin" (Kristy Lee Cook/Rachel Proctor/Laura Veltz)
"Man Like That" (Jaron Boyer/Kristy Lee Cook/Ben Stennis)
"My Softer Side" (Kristy Lee Cook/Liz Rose/Emily Shackleton)
"No Strings" (Kristy Lee Cook/David Fanning/Billy Montana)
"One Hell Of A Ride" (Kristy Lee Cook/Westin Davis/Jon Mabe)
"Party Like A Rockstar" (Kristy Lee Cook/David Fanning/Billy Montana)
"Two Horse Town" (Kristy Lee Cook/Clint Lagerberg/Heather Morgan)
"You're Everywhere" (Victoria Banks/Kristy Lee Cook/Rachel Proctor)