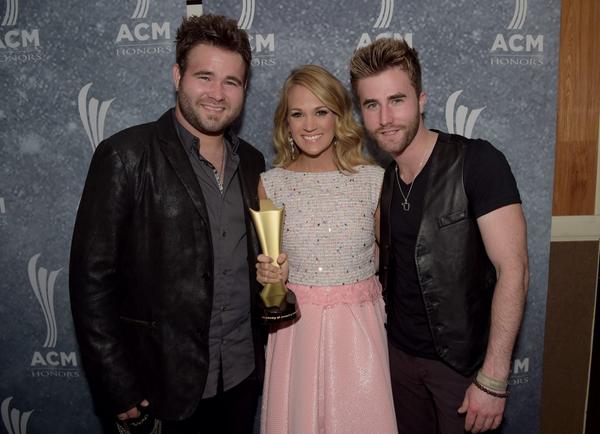 The ACM Honors, the non-televised extension of the annual Academy Of Country Music Awards, took place last night at the Ryman Auditorium in Nashville. Country superstar and Idol Season 4 champ Carrie Underwood was presented the Gene Weed Special Achievement Award for "unprecedented, unique and outstanding individual achievement in country music" by her friends, labelmates and Voice finalists The Swon Brothers, who performed a medley tribute of 2 of her hits. Meanwhile, superstar and Season 1 Idol champ Kelly Clarkson was part of an all-star trio honoring ACM Songwriter Of The Year Shane McAnally.
HQ video will likely come in a few days but in the meantime, check out video of Kelly Clarkson, Lady Antebellum's Hillary Scott, and Kacey Musgraves performing 3 Shane McAnally cowrites: Lady A's #1 hit "Downtown," Kelly's "Tie It Up," and Kacey's Grammy-winning "Merry Go Round." Each lady took lead on 1 song while providing harmonies on the other 2:
After a video presentation featuring Carrie's The Sound Of Music-Live! costar Stephen Moyer praising her work ethic, a journalist I haven't been able to identify yet praising Carrie's risk-taking, and Grand Ole Opry General Manager Pete Fisher praising Carrie for the way she has gone about her career, the Swon Brothers took the stage to perform an acoustic medley of 2 of Carrie's #1 hits: "Wasted" and "See You Again."
Kudos to @TheSwonBrothers for tacking @carrieunderwood songs tonight as part of her tribute at ACM Honors. And (so far) nailing it.

— Tennessean Music (@TNMusicNews) September 10, 2014
After their performance, Zach and Colton talked about what an honor it was to attend their 1st ever industry awards show and joked that it felt like a "hazing ritual" having to perform a Carrie Underwood song there. After kudos to their friend not only for her music but her heart, they introduced Carrie, who proceeded to be an adorable, sobby mess.
UPDATE: Now with video of Carrie's speech!
She thanked the Swon Brothers, thanked the ACM, and got choked up when she said:
I'm thankful to country music because it's always, throughout my life, it's been so good to me.
The next wave of emotion came after Carrie had thanked her family and her husband, when she started talking about her team. She said:
I have the best team in the world, and I feel like I don't get enough chances to thank them publicly. Ann [Edelblute, her manager since Idol], we've been together for over 9 years, I don't know what I would do without you.
Later, Carrie would hilariously & rhetorically squeak, "What's wrong with me????" when she can't keep it together. Carrie closed her speech by thanking everybody again and promising that she would honor and cherish this special ACM Honor. According to various reports from the audience (including this one from People.com, country star and host for the evening Jake Owen helpfully informed Carrie's husband Mike Fisher (who was sitting in the audience) after Carrie's speech that pregnant women can be emotional.
Check out additional pictures from the event via Jason Davis for Getty: