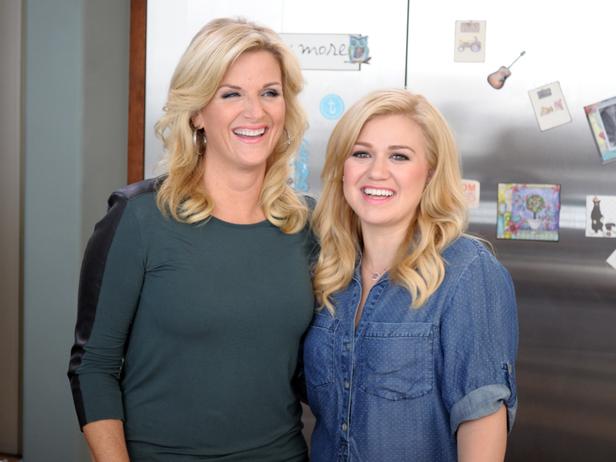 After a few quiet months for Kelly Clarkson fans as she and her husband have begun life with Ms. River Rose, the good news is coming in bundles today! Late breaking word this evening is that the superstar and Season 1 Idol champ is featured on the upcoming single from the incredible Trisha Yearwood!
Just yesterday, Trisha Yearwood announced that she was joining the Sony Nashville roster (on RCA Nashville) and would release a new album called Prizefighter her first in 7 years. Prizefighter is set to feature 6 new songs and 8-9 of her greatest hits, according to this Billboard interview. It looks like RCA Nashville's promo team has started playing the lead single for radio this evening, and it is the title track of the album.
"Prizefighter" is cowritten by Jessi Alexander (cowriter of Lee Brice's CMA & ACM Song Of The Year-winning #1 hit "I Drive Your Truck" and Blake Shelton's #1 hit "Mine Would Be You"), Sarah Buxton (cowriter of Keith Urban's Grammy-winning t5 hit "Stupid Boy") and Ross Copperman (cowriter of Scotty McCreery's "Get Gone With You," Danielle Bradbery's NBC Olympics promo song "My Day," Keith Urban's "Even The Stars Fall 4 U [sic]" and "She's My 11," also producer of & cowriter on Dierks Bentley's "Riser" album). At yesterday's press conference announcing her new record deal and upcoming album, Trisha described "Prizefighter" as
a song on the album that is about beating the odds and winning and fighting no matter what. I think it's a message we all need to hear.
via The Tennesseean
According to multiple Music Directors at country radio (including this one who deleted a tweet that said, "Yay!! @tycom & @kelly_clarkson team up on her new single!!!! Haven't been this mesmerized since Nicki Minaj's booty in Anaconda! #excited"), Kelly Clarkson, no stranger to empowering songs herself, is featured on the track!
@mbld77 @TYcom And with @kelly_clarkson #happyears #doesitgetanybetter

— Marissa KKRV & KWIQ (@Marissa_KKRV) August 21, 2014
There's no word yet on how soon we can expect to hear "Prizefighter." Trisha Yearwood did talk to Billboard about her expectations for radio play as a woman nearing the age of 50:
I'm not young. I'm going to be 50 this September and all you hear is, 'Nobody over 30 gets played on radio,' so it's a whole new ballgame, but it's not going to stop me from making good music and I do think about radio. We are recording a little differently. The sound is a lot different on radio now. The vocals are a lot dryer and more in your face, and I like that. It's been a new experience for me and we are recording that way. I feel like musically it sounds like what you hear on radio. Now whether radio will play it or not remains to be seen, and I'm conscious of it. But I'm doing what I've always done, and that is pick songs that I believe in and try to do the best job I can on them and then hope for the best."
Since her previous album, 2007's critically acclaimed Heaven, Heartache, & The Power Of Love, Trisha Yearwood has become a popular and Emmy-winning TV presence via her Food Network show Trisha's Southern Kitchen. With her husband and labelmate Garth Brooks also re-entering the fold with new music and a gigantic tour (on which Trisha will join him), Trisha will have more than a few avenues beyond radio to promote her new music.
Trisha and Kelly have a well established friendship and collaborative history. Kelly covered one of Trisha's signature hits, "Walkaway Joe," while on tour in 2012. At last year's CMA Fest, Trisha and Kelly joined forces for a duet on Garth Brooks's smash "Ain't Goin' Down Til The Sun Comes Up":
Kelly guested on Trisha's Southern Kitchen in an episode that aired in November 2013:
Also last year, Kelly, Trisha, and Reba joined forces on "Silent Night," which was featured on Kelly's hit Christmas album, Wrapped In Red. They performed it on the NBC special Kelly Clarkson's Cautionary Christmas Tale:
Any collaboration between Trisha and Kelly means the joining together of 2 of music's finest voices, and it'll be nice hearing Kelly on something new as we wait for her next studio album (which at last check looks like it will be a pop album, possibly featuring a MoZella/Jesse Shatkin cowrite called "Take You High").