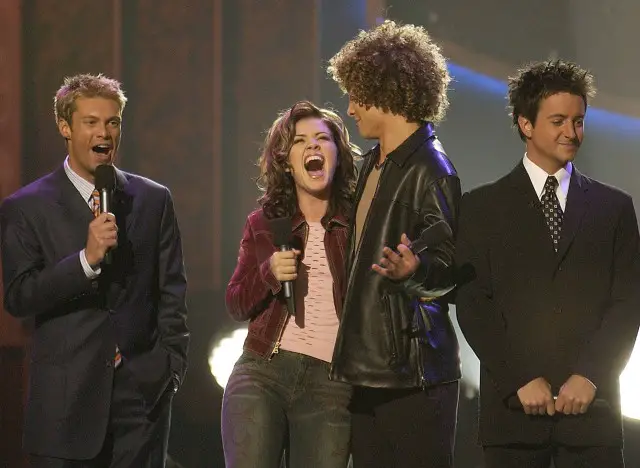 I just heard from somebody whose friend attended the Kelly Clarkson taping today. The original American Idol will be guest judging tomorrow's (2/25) first LIVE performance show featuring the newly unveiled Top 10 and will also perform a song.
Apparently, she taped a performance. My source said She did a medley of all her her greatest hits–maybe 10 in all–ending with her coronation song "A Moment Like This." She had to stop and start and did "A Moment" a few times. She "couldn't breathe, was crying and very emotional. She kept apologizing to the audience and production. Said she couldn't go out being pitchy!!
Here's an incomplete list of the songs she performed: Miss Independent, Breakaway, Since You Been Gone, My Life Would Suck Without You, Don't You Wanna Stay, Heartbeat Song, Stronger, Invincible, A Moment Like This.
It wasn't made clear to the audience when the performance would be used, tomorrow or some other time, but the finale is a safe bet for such a huge performance. Another clue: Former Idol producer Nigel Lythgoe who is executive producing the finale telecast was present at the taping, so it's a pretty safe bet the taped performance will air on the finale.
#KellyClarkson is AMAZING. Just saying!!!

— Nigel Lythgoe OBE (@dizzyfeet) February 24, 2016
Do you think the producers will leave the emotional stuff in the performance? I won't be surprised if they do. The very first American Idol becomes emotional as she sings songs from the incredible length and breadth of her career, ending with the song that started it all! Everyone will be crying!
Of course, the emotions could be her pregnancy hormones kicking in big time. Ha. It was probably a combination of both. Kelly will be too pregnant to travel to California for the April 7 finale. She mentioned in a recent interview that she'd be filming something ahead of time.
If you were at the Kelly Clarkson taping today and have more details, post in comments or send your report via the "Contact Us" link.
Kelly only performed one song during the taping, so she'll probably be performing live tomorrow, as well as sitting in on the panel.
*Correction: Kelly will sit on the panel and perform on tomorrow's (2/25) live show, not tonight as originally posted.