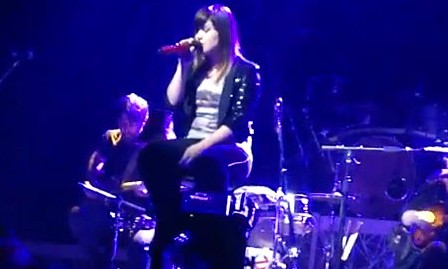 Kelly Clarkson's fan request of the night in Boise Idaho Saturday night was Christina Aguilera's "Beautiful". Of course Kelly did justice to The Voice coaches tune. Since Kelly guest starred on The Voice this season as one of Blake Shelton's guest mentors, she throws a little shout out to the upstart NBC competition reality show.
But you want to let the video continue after Kelly finishes singing,when she throws major shade on The Voice contestant Erin Martin and her "singing style" which consists of a bunch of assy sounding yips and yelps. "I sing my ass off," says Kelly, "and this girl goes 'wha ahh ow.'" Dead on impression. Hilarious.
Erin WON a battle against the Sheilds Brothers singing "What's Love Got To Do With It." last week.