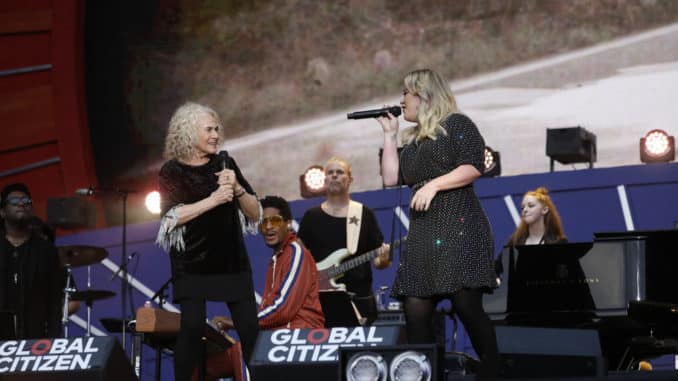 Legendary singer/songwriter Carole King performed a set of her biggest hits at the Global Citizen Festival in  Central Park in New York City on Saturday (Sept 28) night. The singer was introduce by American Idol OG winner and The Voice coach Kelly Clarkson for a performance of the classic hit "Where You Lead."
Carole was part of an all star lineup that included Pharrell Williams, Alicia Keys, One Republic, H.E.R. and show closers Queen + Adam Lambert.  
Watch Queen + Adam Lambert Close Massive Global Citizen Fest (VIDEO)
"…I wrote this [song] with Tony Stern, 11 years before my special guest was born," Carole said, as she introduced the song, "But I guess it's a tribute to the song that she agreed to sing it with me tonight." 
"I really love this girl. I love her spirit and her voice," Carole said, before introducing her "friend" Kelly Clarkson! 
The lyrics of the nearly 50 year old song are a little quaint, but there's no denying two strong women had joined forces on the stage. 
Watch Carole King and Kelly Clarkson perform "Where You Lead" at the Global Citizen Festival.
Global Citizen Festival began in 2012 as a platform to encourage world leaders to adhere to the United Nation's Global Goals for Sustainable Development and to end extreme poverty by 2030. This year, the festival is urging the world's largest communities, including Canada, Germany and Australia, to increase their support by 15 percent to the $14 billion fundraising drive — which aims to save 16 million lives and cut mortality rates from AIDS, tuberculosis and malaria in half by 2023.