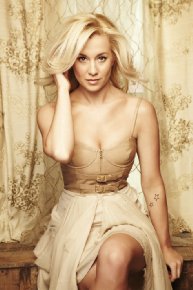 Hooray.  It looked like there wouldn't be a performance from an American Idol alum on this Thursday's results show. but Kellie Pickler has stepped in to save the day!
The Season 5 alum just tweeted tonight, "…I'LL BE SINGING ON THE STAGE THAT IT ALL STARTED ON, AMERICAN IDOL!! YEEE-HAW!! :) :) :)"
Currently, Kellie is promoting her 3rd studio album 100 Proof.
UPDATE: A CMT reporter is reporting that Kellie will perform "Where's Tammy Wynette", which is interesting, because her single is "100 Proof" which goes for adds next week.