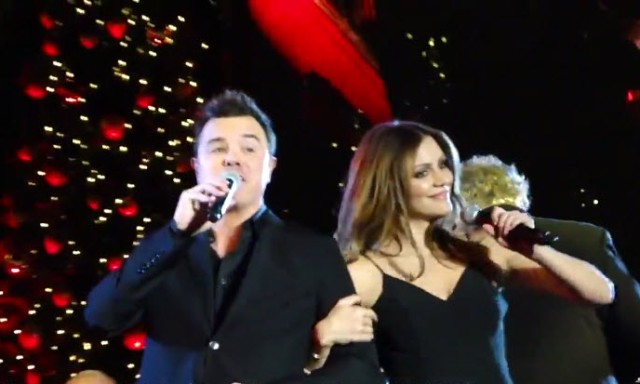 Here's some fun, and a duet you probably never expected. Katharine McPhee joined forces with Family Guy creator, Seth MacFarlane, for a frothy rendition of "Marshmallow World" at the recent Christmas concert at The Grove Los Angeles.
Actually, the duet may not be THAT much of a surprise, considering Seth has released several well-received albums of standards. Frank Sinatra and poop jokes are his passions! Not necessarily in that order.
When he introduced the American Idol season 5 runner-up and Scorpion star, Seth took a swipe at singing shows, but we'll let that pass. I doubt that he's actually ever watched American Idol or The Voice.
After the two sing together, Katherine performs a sultry "What are You Doing New Years Day." If you're interested, you can back up the video and watch the whole concert, which includes performances from Meghan Trainor.
Check out Seth MacFarlane and Katharine McPhee performing "Marshmallow World" right here.