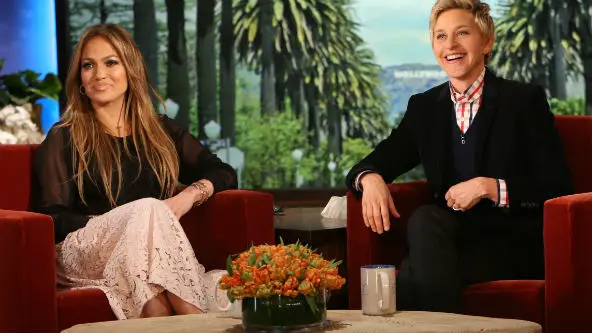 Jennifer Lopez has a theory about why the current crop of American Idols aren't delivering those amazing performances we expect.
The American Idol judge feels they didn't get enough time on the big stage before the finals began.
"I feel that they're all super-talented kids. I also feel that they were thrown to the sharks too early," she explains to Ellen. "We went from Hollywood Week right to the main stage, and before we used to have those middle rounds in Vegas and all that and it gave them time to adjust. So I feel like they're really not coming into their own yet."
"I feel like every week, I'm like 'C'mon! I need a Wow performance from you! You're amazing! C'mon! What're you doing?'"
"It feels like we're beating up on them … but they do need to step up to the plate," Lopez says. "I feel like now in the next couple of weeks is when they're getting into their comfort zone a little bit."
I tend to agree with her. If the middle rounds were longer, we might have had better performances in the finals. But on the other hand, many in this years cast are young, shy and/or inexperienced, and have issues that aren't going to be fixed in a few weeks.
What do you think?
The discussion of Idol begins at about the 4:14 mark.