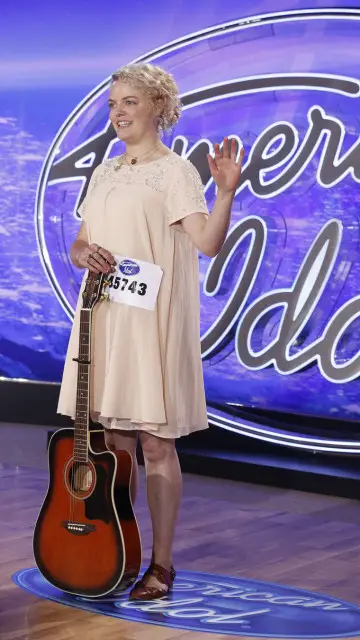 Jenn Blosil American Idol 2016 Season 15 Contestant
Jennifer "Jenn" Blosil is a 23-year-old singer-songwriter from Brooklyn, New York, who describes herself as "a white kid with an afro that sings blues." Originally from Orem, Utah, Jenn comes from a very musical family and first started to learn to play piano when she was 4. Since then, Jenn learned how to play guitar and started composing original music at age 12. Known for her humility, Jenn is very strong in her faith. In an interview, Jenn cites Coldplay as her favorite band, because she says that when she attended one of their concerts she "realized you can feel the Spirit in a setting where truth is being taught because all good things come from God." Other miscellaneous facts about Jenn are that she does not read comments people write about her, prayer is a big part of her life and she was born in Vienna, Austria.
Click to see the FULL LIST of American Idol 15 Top 24 Contestants!
American Idol 15 Top 24 Video Sneak Peek
Over this past summer Jenn auditioned for the farewell season of American Idol. At her audition, she performed Radioactive, by Imagine Dragons, to which she earned strong reviews. Jennifer Lopez called her "compelling," while Keith Urban complimented her "story-telling quality" and said she had a certain presence about her. Receiving her golden ticket and surviving Hollywood Week, Jenn performed The Hanging Tree, by Jennifer Lawrence, at the Showcase Round. Giving a strong enough performance, Jenn was then admitted into the top 24.
Instruments Jenn Plays: Piano, Guitar
Links:
Overall Thoughts: For me, Jenn is the potential dark horse of the competition. Reminding me of a mix of Sia and Melanie Martinez, Jenn is one of the contestants that is right on the edge of becoming one of my favorites. In my mind, I see Jenn going way farther than I originally thought she would. While I think she will have trouble cracking the top 5, I can easily see her in the top 14 and possibly even the top 10. However, I do think Jenn is an acquired taste (see JAX), so while there will be people who love her, there will also be others who will hate everything about her. In the end, I think this split in reception will be the reason she won't make the top 5. Anyway, moving on from my personal feelings, let's talk what Jenn needs to do to beat the odds and last in this competition. First thing is first: keep bringing in the piano for the songs she wants to be a moment. When Jena Irene brought out the piano, which wasn't that often, you knew she was going for that moment performance, so it might be useful for Jenn to sometimes leave the piano back. This way when she finally does bring it back out the audience will know she means business. One other note I have for her is to dial back the quirkiness just a little bit when on camera so it doesn't start to annoy the audience and will let people know that she is a serious competitor. However, I do still have one big fear with Jenn: uptempo songs. I worry that Jenn's voice isn't the kind that will be able to handle uptempo songs and in the end this could be her downfall. Soon, she will be called out by the judges and told to do a fast song, which is when I can see things start to fall apart for her. Regardless of all this information, I am still a huge supporter of Jenn. I hope to see much more from her this season.
Song Suggestions:
Breathe Me, by Sia. I know you don't read anything about you, but please Jenn?
My Immortal, by Evanescence
When We Were Young, by Adele
Jenn Blosil sang Radioactive by Imagine Dragons at her Philadelphia audition. Click to check out her FULL AUDITION
More American Idol Performances:
Showcase Round – The Hanging Tree by James Newton Howard – Click to Watch VIDEO
Group Round – Team Milk and Cookies – Click to Watch VIDEO
Semi Final Round – "Sorry" – Click to Watch VIDEO
Idol Star Duet Round with Constantine – "My Funny Valentine" – Click to Watch VIDEO