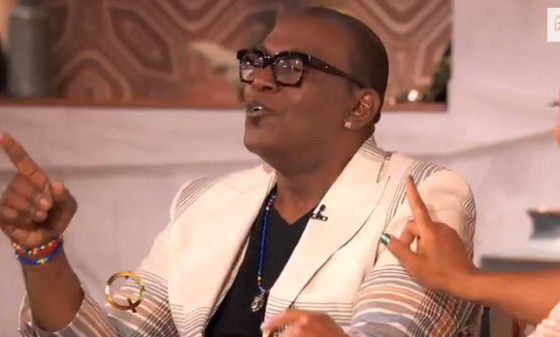 It's been reported that the current American Idol judges panel will return to the singing competition next season. Both Harry Connick Jr and Jennifer Lopez have confirmed the news themselves.
But will in-house mentor, Randy Jackson, also be back when a scaled back version of Idol hits the FOX airwaves in January 2015?
When Queen Latifah asked Randy the question on her afternoon talk show, recently, he said, "You never know."
Could it be that Randy won't be returning to Idol this season? Or is this non-answer like all the previous non-answers–just a tease until the inevitable is announced.
At this point, I truly believe there is no getting rid of Randy Jackson as long as Idol continues. He's like a celebrity cockroach, designed to survive any singing show apocalypse.
Here's Randy chatting with Lyndsey Parker about the Top 2
Blah blah blah blah. The usual generalizations and cliches from Randy.  He insists that records fail because they suck, No other reason. Oy. Also, Lyndsey notes that Caleb's single. "As Long As You Love Me" was written by Justin Hawkins from The Darkness. He wrote Adam Lambert's "Music Again" from his debut album, For Your Entertainment.