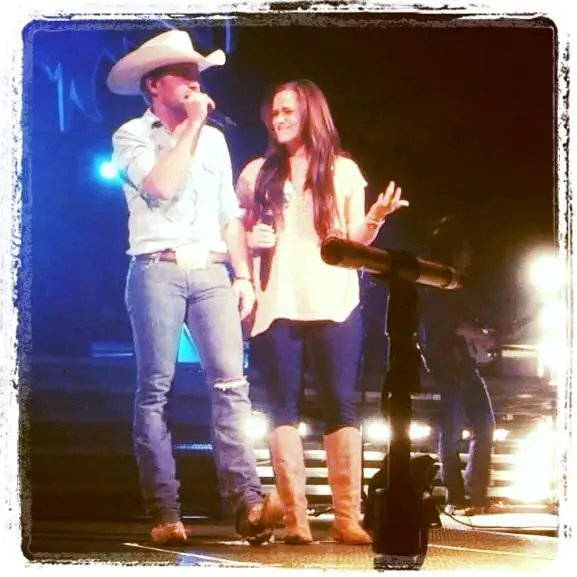 Welcome back to Idols Gone Country-Ladies Edition! Look inside for new music news from Lauren Alaina, Kristy Lee Cook, Skylar Laine, and Kellie Pickler, plus new pictures from an upcoming Carrie Underwood interview for Katie Couric's All Access Nashville special for ABC!
Skylar Laine tweeted last week about heading back to Nashville to write and record more music. Skylar has frequently referred to Justin Moore has an idol of hers. Justin Moore recently responded to a couple questions I had (including whether he was instrumental in connecting Skylar to his producer Jeremy Stover) via @broadwayonair about Skylar:
First off, it's extremely flattering for someone to call you their idol. It's hard to think of yourself in that role. Skylar has been very kind in her remarks about me and my music, and its much appreciated. I met skylar once. It was at a show, prior to her being on idol. I've talked to her on the phone once after the show. All of her success is due to her hard work and talent. I didn't introduce her to my producer. I, honestly, don't know how that happened. However, I think it would be a great fit. I don't know a ton about what she wants to do musically. But, I think she is very talented, and I wish her nothing but great success. As far as a collaboration, you never know. There are so many variables that go into something like that. But, I do love her voice. Down the road, maybe we will get together and write a song and cut something together because i respect her talent. And, from what I've been told, she had the same kind of upbringing as I did.
Justin followed up this past weekend at the Mississippi Coast Coliseum in Biloxi (where he opened for Eric Church) by bringing Skylar up on stage to sing a song from his debut album called "I Could Kick You Ass." Check out LQ video of their duet here:
http://www.youtube.com/watch?v=ut3LvDAEM2g
Meanwhile Kristy Lee Cook continues her radio tour and has been introducing new songs slated to be on her album. One of them is a Luke Bryan cowrite!
"Dirt Cheap" (written by Hillary Lindsey, Luke Bryan, and Dallas Davidson and previously recorded and released by Australian country act Catherine Britt in 2008 and Ashley Ray in 2010. Kristy Lee's version will include guest vocals by her album's executive producer Jason Aldean!)
Catherine Britt's live version of the song:
http://www.youtube.com/watch?v=ifacBkHbFPw
Ashley Ray's studio version of the song:

"Hang In There"

"Stripes" (this is one cowritten by Brandy Clark, Shane McAnally, and Matt Jenkins and a song Kristy Lee's trying to get on her album)

Here's Brandy Clark's demo of "Stripes":

Radio Lia Interview (Kristy Lee talks about her single & what it was like to work with Jason)

Lauren Alaina talks about her progress on her sophomore album among other things, via @broadwayonair. She says she'll be headed into the studio before the end of the year to start recording and she think the new album could be out before summer 2013. However she also says it could come out fall 2013 and doesn't seem to have a timeframe for when the lead single will come out since she is still promoting her current single "Eighteen Inches"
Confirmed to be among Lauren's collaborators on her upcoming album is The Voice's Nicolle Galyon, who cowrote "Growing Her Wings" and "Dirt Road Prayer" on Lauren's debut. Nicolle Galyon tweeted
THIS JUST IN: The Voice & American Idol (@lauren_alaina) unite for a blonde powerhouse country song. #bornandraised http://instagr.am/p/PurrofHysC/
Lauren has also been writing with Luke Laird and Ashley Gorley according to this tweet:
We loved having @Lauren_Alaina & Ashley Gorley in the office writing with @LukeLaird today!
Lauren cowrote "Funny Thing About Love" from her debut album with Luke Laird (and Brett James). Luke Laird and Ashley Gorley are frequent collaborators with Carrie Underwood and have many, many hits and credits with country acts ranging from Miranda Lambert and Little Big Town to Blake Shelton, Trace Adkins, and Brad Paisley.
Kellie Pickler has been writing for a new album, the first she will release with her new label Black River Entertainment. She recently tweeted
Headed home from a writers retreat at Blackberry Farm…so excited about making the new album! :-)
A couple of song titles that have surfaced from earlier writing sessions include "I Love Me More" (Kellie, Jessie Jo Dillon, Dean Dillon – the team that cowrote "As Long As I Never See You Again") and "My Life Is A Song" (Kellie, Jessie Jo Dillon, Brandy Clark).
Carrie Underwood did an interview for Katie Couric's All Access Nashville special, which airs this Friday October 26 on ABC at 9 PM Eastern. Check out pictures from Carrie's interview, which took place as she prepped for her headlining  concert at the Staples Center in Los Angeles.