The Tony Awards are tonight! Neil Patrick Harris will be hosting once again. There's nothing blog-related going on there, but who cares. The Tonys are fun to watch and I've been promised lots of video afterward, so stay tuned! Airs on CBS at 8 et.
Phillip Phillips tweeted yesterday, "Just want to tell everyone thank you for the concerns and prayers, it means a lot to my family and I. Im just resting and healing. #fb"
Moved City of Hope stuff to its own post
Kelly Clarkson met Justin Bieber and Carly Rae Jepsen at the Summertime Ball in London yesterday. "Both are so sweet!" Kelly tweeted, " Here's our "call me, maybe" pose ha!"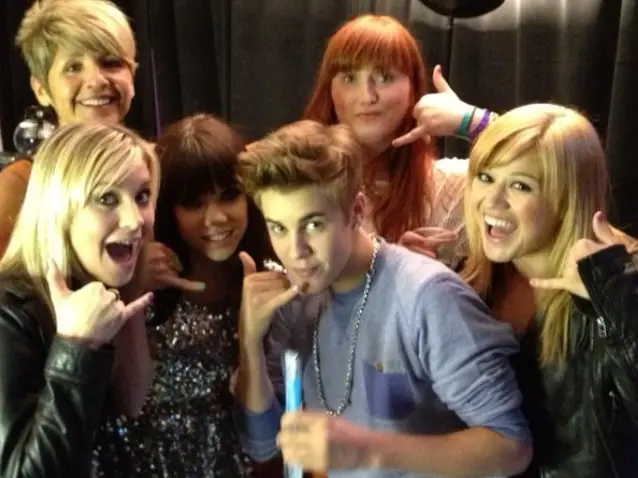 Gokey to perform at eyewear collection release Monday – Season 8 Idol alum, Danny Gokey, will release a new designer eyewear collection and perform at Wisconsin Vision's Pewaukee location, 2005 Silvernail Road in Pewaukee on Monday, June 11 from 4 to 6 p.m.- More information at BizTimes.com
Jessica Sanchez's trainer says she's only just begun – Jessica Sanchez' mentor, Robert Talon–the man who received a car from Idol at the finale–talks about working with Jessica. He thinks she began trying to hard when she was brought back to the competition by the judges after she was eliminated. "Jessica is her own biggest critic. She likes things to be perfect," Talon said of the 16-year-old powerhouse singer from Chula Vista, California. "I think her near elimination played with her head a little. After that, she started trying too hard instead of singing from the heart, like she's used to doing." – Read more at Inquirer.net
Hunter Hayes: Carrie Underwood Tour Is a 'Total Dream' – Country singer, Hunter Hayes on opening for Carrie Underwood on her fall tour, "Carrie may be one of the biggest acts in music, but to Hunter she's already become someone much more personal. "She's one of the coolest people I've ever met," notes the young star. "I feel like she's kind of a big sister in the industry. You've got to love that about country music." – Read more at The Boot
Carrie Underwood & Blake Shelton Backstage at CMA Music Feat
Adam Lambert's Rocking Night Out at G-A-Y Nightclub – Adam Lambert performed at the G-A-Y nightclub in London yesterday. The Season 8 alum sported knee high black boots, a black blazer and cheetah print shirt. See the photos at Celebrity-Gossip.net.
Adam Lambert talks album success Backstage at the Ray of Sunshine Concert in London
Adam Lambert in Montreal on "District V" TV Show – June 7 2012
Q&A: American Idol winner on golf tips, pro-am partners – Champions Tour Director of Communications Mark Williams, spent a few minutes with Hicks before he teed off with Champions Tour professional John Cook in the Regions Tradition pro-am at Shoal Creek last week. On keeping up with fellow Idols: "I keep up with everybody. There are only 11 winners in the series. The longer the show runs, the more important the winners become. That's the strength of winning a show like that. Yes, I keep up with a lot of the winners. I feel very blessed to have won it, especially that season." Read the interview at PGA Tour.com
'X-Factor' All Four Judges Walk Off! – Well, it was totally for show, actually " – Sources at the taping in Kansas City tell TMZ … Britney, Demi, L.A. Reid and Simon Cowell's stand-in, Louis Walsh, couldn't stomach one more second of a certain wannabe superstar's "singing" and were so disgusted by it … they walked out mid-audition. We're told it all went down because the guy auditioning walked on stage, claimed to be "better than Chris Brown," and then turned his back to the judges to sing with his eyes closed. After a few bars of melodic torture, the audience started booing and the judges peaced out. – Read more at TMZ.com