Kelly Clarkson to sing Natural Woman at the Grammys? Geoff Boucher reports, "Kelly Clarkson after a stirring "Natural Woman" performance at #GRAMMYs rehearsals: "They don't make songs like that anymore."" The singer is also reportedly singing a tribute to the late Patti Page. The Grammys will air on CBS Sunday night at 8 pm.
Catching up with Colton Dixon – He acknowledged the fact that there are others who could open for the Filipino-American singing sensation and "Idol" runner-up, so he feels "very honored to be opening for her." Colton admitted that he and Jessica are very close and enjoy spending time together. But they don't talk much about music. "Everything was so music-related in our relationship in the beginning that we kind of steered away from that a bit. We like to talk about other things," he said. – Read more at Inquirer.net
Adam Lambert at the Grammy Friends and Family Event
Lindsey Parker tweeted this photo of Adam Lambert sporting his VH1 "Ray of Light Tunic at the Grammy Friends and Family event in Los Angeles last night (Feb. 8).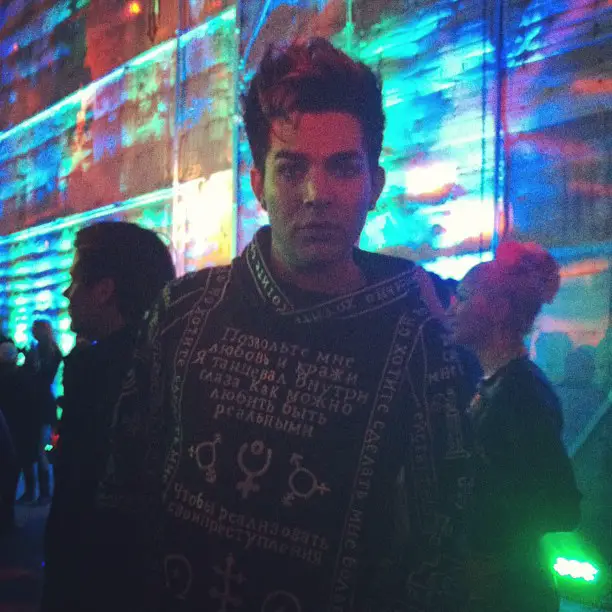 American Idol's Elise Testone Sings Who's Loving You w/ a little help from Jeffrey Lampkin
Elise Testone Loves Charleston – In fact, nowadays she says she's "happier than ever." Now that her obligations to American Idol are over and done with, Testone is focusing on developing her craft. "I want to establish myself as Elise Testone, not the girl from American Idol. That's still a great platform to start from, but I want to show the world who I am as an artist." In order to accomplish that, she's put together a band of exceptionally talented, committed musicians and together they're creating the kind of sound that she dreamed about. She's got two back-up singers, both of whom she sang with while in college at Coastal Carolina University; a cellist; two saxophonists, one of whom also plays the trumpet and the other the flute; and bass, drums, guitar, and piano. Currently, she's working with a manager to book a summer tour.- Read more at Charleston City Paper
Kelly Clarkson on Writing Love Songs and the New 'American Idol' Judges – As the first American Idol winner, what's your take on the new judges? ? The show needed to be freshened up a bit. I'm a huge Mariah Carey fan. If I had seen her as one of the judges when I was trying out, that would have been so cool. – Read more at Parade
Kelly Clarkson Already Has a Wedding Dress – "I was in the changing room, and I looked at my armpits, and I was like, 'Are you kidding me? I look like a cave woman!' " recounts the singer, relaxing a day later in jeans and a hoodie-covered Willie Nelson T-shirt in her adopted hometown of Nashville. "And then I took my pants off, and I was like, 'Oh my God, my legs match!' My nails looked like a hot mess; my eyebrows looked like bushes. I was so not a girl. I started tearing up because I'm like, 'This is not me. I'm usually not this gross. I'm just so busy!' "And then on top of that," Clarkson continues, "My friend got incredibly ill like in the movie Bridesmaids. She's like, 'We are totally not going to get asked back here.' " – Read more at People
Jordin Sparks Emotional Tribute to Whitney Houston
Jordin Sparks played host for a special tribute celebration to whitney houston at Tru hollywood where houston was last seen before her tragic and untimely death.
Whitney Houston Remembered: Jordin Sparks Reminisces About Music Legend; Bobby Brown Talks Cissy Houston's Memoir – It's been a year since Whitney Houston passed away on the eve of the 2012 Grammys, but her singular talent and spirit continue to inspire those whose who were fortunate enough to cross paths with the music icon. E! News caught up with Jordin Sparks—who costarred with Houston in the last film she would ever make, Sparkle—at a tribute to the legendary diva Thursday in Hollywood. – Read more at E Online
Michelle Obama's Grammy Picks – For Song of the Year, Michelle Obama would like to see Kelly Clarkson win for Stronger (What Doesn't Kill You). "It's an empowering song with a positive message," she says. As for Album of the Year, The First Lady is throwing her support behind Frank Ocean's Channel Orange. "He's a young, innovative performer with a soulful sound." – Read more at ETOnline
Exclusive: Taylor Swift and Carrie Underwood "Hate Each Other," Will Avoid Each Other at Grammys – Taylor Swift never, ever wants to hang out with Carrie Underwood. A source tells Us Weekly that the country stars are planning to avoid each other at Sunday's 2013 Grammy Awards. According to the insider, Grammy execs were ordered to keep Swift, 23, and Underwood, 29, "from crossing paths" at the Feb. 10 show "since they hate each other!" Says a Swift pal, "Taylor feels Carrie is always rude to her, so she steer clear of her." (A Grammy rep counters, "No requests were received from either artist.") – Read more at US Magazine
It's Official! Britney Spears' Las Vegas Show to Be at Caesars Venue – Sources told "Extra" the show would most likely take place at Planet Hollywood, where "Extra's" Las Vegas bureau is located.
Earlier this week, "Extra" reported that Britney's show was nearly a done deal, and that her team was deciding about which of two Caesar properties would be home for the show. – Read more at Extra TV
Company Claims He Scrooged Them Over XMAS Concerts – Cee Lo Green is being sued over the 12, no 6, no 2 days of Christmas — specifically, the lawsuit alleges his people conspired to fleece an unsuspecting promoter out of hundreds of thousands of dollars over concerts that were never going to happen. Cierra Management Group claims in its lawsuit, Cee Lo's people approached them in November, 2011 with a proposition — doing a tour called "12 Days of Christmas." Cierra would have had to front $100k per concert and it was too much money. So Cee Lo's peeps went back and proposed to slash XMAS in half and do 6 days at $100k each, but it was still too rich for Cierra's blood. So, according to the lawsuit, Cierra was offered a bargain basement Yuletide proposition — 2 concerts for a total of $243,000 including expenses. It was too tempting and Cierra agreed. But here's the deal … According to the suit, the concerts never took place and Cierra believes Cee Lo's people never intended for them to take place. The suit claims it was all "a scheme designed to finagle funding capital for concerts they knew would not manifest." Cee Lo is not accused of being part of the conspiracy — although his people certainly are — but he's being sued for allegedly refusing to perform the 2 concerts. Cierra wants a whopping $14.2 million. – Read more at TMZ