Carrie Underwood appears on Late Night with Jimmy Fallon tonight. 12:30/11:30cET on NBC
Heejun Han tweets, "Final finish touch on my contract…:) cant wait to tell yall whts about to happen!:)"
Bo Bice performs at Heider Center in W. Salem, WI.
Taylor Hicks performs at The Indigo at Bally's Las Vegas.
Casey James performs at the Wells Fargo Arena in Des Moines, IA.
Scotty McCreery performs at Town Toyota Center in Wenatchee, WA.
Phillip Phillips appears on Good Day LA.
Vonzell Solomon performs at the Opera House at Seongnam Arts Center  Via AmericanIdol
Jennifer Hudson will Perform at the Nobel Peace Prize Concert – Jennifer Hudson is set to perform at the Nobel Peace Prize concert in Oslo, Norway on December 11. More information HERE.
Jessica Sanchez – BAFTA Brittania Awards – BBC America
Jessica Sanchez performed "I Will Always Love You" at the BAFTA Brittania Awards, presented by BBC America. The event will air on the cable channel this weekend.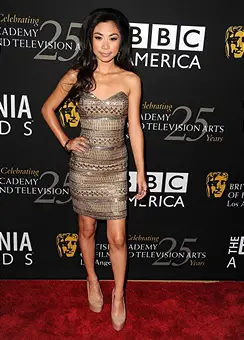 Carly Rae Jepsen, The Wanted To Perform At Macy's Thanksgiving Parade
– Stuff your turkeys and break out the cranberry sauce — the holidays are nearly upon us! And, this year's Macy's Thanksgiving Day Parade will be populated by some of Justin Bieber's closest pals. Carly Rae Jepsen, Cody Simpson and The Wanted are among the acts set to appear during the 86th annual Macy's Thanksgiving Day Parade on Thursday, November 22, MTV News can exclusively confirm. – Read more at MTV
'The X Factor': Diamond White talks surprise return post-elimination – After the performance show, White told us she only discovered the good news two days ago. She was filming what she thought was a "wrap interview" with "X Factor" crew and received a cell phone call from Spears. White said she never expected it: "Everyone on the crew did a really good job hiding it, they were all so serious!" There wasn't much time to pick a song, so they went with Whitney Houston's "I Have Nothing" — which White had performed during the boot camp and happened to fit the week's theme of songs from the silver screen. "It's a song people seem to know me for," White says. "I think I did it even better tonight!" – Read more at Zap2it
American Idol alum raises nearly $20K for East Tenn. charities – An American Idol alum has helped raise nearly $20,000 for a pair of in-need groups right here in East Tennessee. Scotty McCreery made a stop at the Valerium back in October. His show was part of the first-ever Q93 Mike Hammond Concert for Charity. Rodney Atkins and the Lost Trailers also performed. On Wednesday, the tally from that concert has come in. Nearly $20,000 was raised. The money will benefit Bethany Christian Services of Knoxville and the Helen Ross McNabb Center. – Read more at WBIR
EXCLUSIVE: Kristy Lee Cook debuts emotional new song 'Airborne Ranger Infantry" – For Kristy Lee Cook's latest song "Airborne Ranger Infantry" she teamed up with a special man in her life — her dad. The former "American Idol" contestant's new tune was inspired by four poems her father, Larry Cook, wrote about his experiences in the Vietnam War. "I read them over and over again, and I always wanted to turn them into a song," she told FOX 411. "It just took a few years to find the right partners to write the song with." – Read more at FOX News
'X Factor': 10 Things You Didn't See on Wednesday's Broadcast – 1. Simon Cowell: Mr. Popularity? Think the sharp-tongued Brit earns all those screams on his own merit? Think again. During the show's warm-up session, in which an overly enthused host amps the audience up for the show, fans were specifically instructed to save their loudest cheers for Cowell and to cheer for him often. (To show him how America does it, he explained.) – Read more at The Hollywood Reporter
Mary Murphy Big Loser in Coke-Fueled Sexaholic Lawsuit – "So You Think You Can Dance" judge Mary Murphy just took a COSTLY trouncing in court at the hands of her ex-manager — the one who called her a "cocaine-fueled nymphomaniac" … TMZ has learned. We broke the story … Murphy was at WAR with her former manager Michael Sanchez … who claimed he not only helped Murphy get the SYTYCD gig, but worked like a dog trying to protect her image … while she got coked up and banged a SYTYCD producer. Sanchez says Mary fired him and then stiffed him on commissions … and he demanded more than $1 mil in damages. – Read more at TMZ.com
'X Factor': Paige Thomas' 3-Year-Old Daughter Scouted by L.A. Modeling Agency – Thomas tells THR that Jade was out walking with her grandmother near the CBS lot, where The X Factor is filmed, when "someone from an agency saw her and picked her up." No word yet on an official gig, or which agency may have snapped up the adorable tyke, but Thomas says that they are keeping their options open. "We're kind of seeing what we have out there," she says. "But it's something that she really likes to do. It's not something that I want her to do, it's something that she's really excited to do. She loves cameras, she loves performing, she loves singing and dancing." – Read more at The Hollywood Reporter
X Factor Backstage Scoop: Diamond White Dishes on Britney, Lyric Da Queen Explains Eye Patches – 3. Lyric 145 took the prize for most unexpected song choice of the night with a hip-hop version of "Supercalifragilisticexpialidocious." What inspired them to go with that song? "We gotta give credit to Simon," MC Lyric Da Queen said of the trio's mentor. "He was like, 'Put yourself in the mindframe of what Jay-Z did with Annie and 'Hard- Knock Life,' and we all looked at each other like whoa." Da Queen also gave us the (surprisingly serious) scoop on her trademark eye patches. "I totally lost my vision for two years, and I ended up getting a cornea transplant," she said. "After that happened, I ended up going to emergency surgery literally three days before my first audition in Greensboro. I was supposed to be in the hospital for two weeks but I discharged myself and I actually auditioned with plastic and tape over my eye and IV marks in my arms. It was serious. One eye's brown and one eye's black because I don't have an iris so now I just wear [the eye patches] with pride. Like I just bejewel them all and make the best out of a bad situation." – Read more at E Online