Erika Van Pelt will appear on The Tonight Show with Jay Leno tonight.
Scotty McCreery will present as well as perform "Water Tower Town" at this Sunday's Academy of Country Music awards. (ACM News)
Nicki Minaj-Jennifer Lopez Feud Sparked on 'American Idol' Stage – Minaj shrugged off Lopez's retort backstage. "She didn't seem to be having it but she gonna have it!" she told THR, conceding: "No, actually, I love J-Lo. I love what she's done for pop culture I have nothing but respect for her and we were just joking around. I'm sure I'll have lots of fun with them when I'm guest judging." – Read more at The Hollywood Reporter
Season 9 Idols Backstage
Season 9 winner, Lee DeWyze and fellow alum, Siobhan Magnus, backstage at the Idol results show last night. I'm glad Nigel allowed Lee into the building. Heh.  Didi Benami was there as a correspondent for THR. All three will appear on THR's Idol Hangover web show.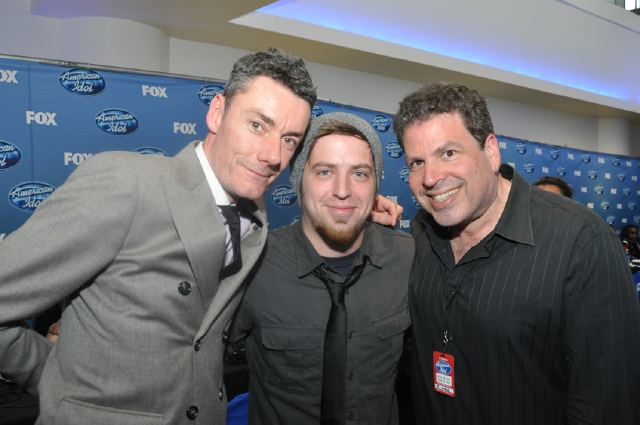 Lee DeWyze with stylist Miles Siggins and musical director Michael Orland via @Kiss_FM_Live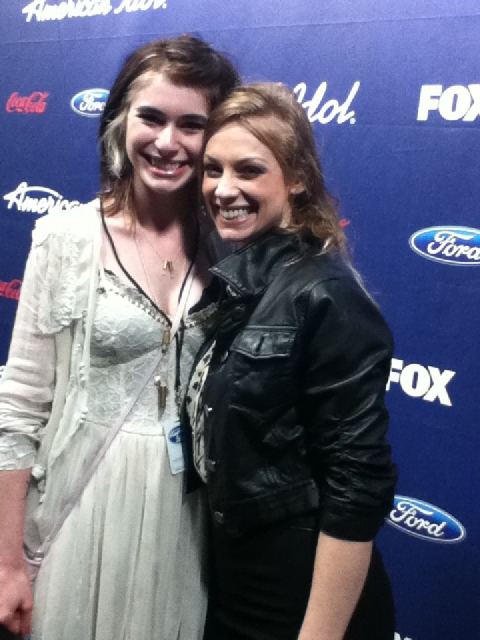 Siobhan Magnus and Didi Benami  via @Shirley Halperin
'Idol' alum Jasmine Trias gives advice to Jessica – MANILA, Philippines – Former "American Idol" finalist Jasmine Trias, who has Filipino roots, gave advice to the latest Fil-Am to make waves in the reality singing contest. "She is already so talented. But because she is so young, she could kind of lose herself in all of it. So I would say, just keep grounded and stay close to your family, and stay true to yourself and continue doing a great job," Trias said in an exclusive interview with ABS-CBN News. – Read more at abs-cbn news
Scotty McCreery Returns To 'Idol' Stage
Scotty McCreery Returns To 'Idol' Stage: MyFoxLA.com
Scotty McCreery "American Idol" Backstage
Scotty backstage via FOX All Access
Jordin Sparks talks about working with Whitney Houston on 'Sparkle' and how she found out about the superstar's passing – When the knock came, Jordin Sparks was in her L.A. hotel room, getting ready to head over to the Beverly Hilton to meet up with Whitney Houston before Clive Davis' annual pre-Grammy party. Sparks had recently spent a couple of months working closely with the superstar on a remake of the 1976 musical drama Sparkle — which Houston executive produced and co-stars in — and she was looking forward to saying hello. "I didn't know her for very long," says the 2007 American Idol winner, "but it was an intense two months: 12 hours every day spending time with somebody. It was amazing to walk into work and then Whitney is sitting in her chair blasting gospel music and singing. I'm thinking to myself, 'People would give their right arm to just hear some of this. And it's happening every day.' She was really, really great." – Entertainment Weekly
Exclusive: Carrie Underwood's Married Life
EOnline goes backstage at Carrie's Vegas Magazine cover shoot
Kelly Clarkson Works Up A Sweat! – Kelly Clarkson works up a sweat at the gym on Thursday (March 29) in Los Angeles. The 29-year-old singer brought along her pups for her rigorous workout! – See the photos at Just Jared
Ryan Seacrest Gets Elbow Surgery to Repair Torn Tendon – Despite his busy schedule, Ryan Seacrest found time to repair a torn tendon in his elbow Wednesday. "I had a probe stuck into my right elbow," the 37-year-old American Idol host said on his KIIS-FM radio show. "They went in with a tiny little probe and they scraped some scar tissue from the tendon, because I tore the tendon from working out." – Read more at US Magazine
Sneak Peek: X Factor Star Rachel Crow's First Acting Job! – The 14-year-old vocal powerhouse pops up on Nickelodeon's Fred: The Show next Friday as Starr, an eccentric friend of Fred's who has dreams of becoming a famous actress and singer. In the episode, Fred (Lucas Cruikshank) enlists Starr to be his campaign manager in his quest to be class president. When the election gets dirty, Starr decides to run against Fred and his opponent, Kevin (Jake Weary). See the photo at EOnline