Tonight, Shnugs recaps the second episode of Masterchef Jr. Watch the kiddies whip up dishes you never even dreamed of. FOX 8/7c pm.
Cassadee Pope's new CMT docu-series, Frame by Frame premiere tonight at 10 pm.
The Biggest Loser Moved Back a Week – NBC's The Biggest Loser October 8 premiere has been moved to October 15 to make way for a The Voice "Best of the Blinds" episode. Which is basically rehash I will not be blogging. Sigh. Via NBC.com
Kelly Clarkson Among Guests for New Season of Food Network's TRICIA'S SOUTHERN KITCHEN – Trisha Yearwood's Emmy-winning series Trisha's Southern Kitchen returns for a fourth season this fall with new family-inspired recipes, music and special visits from relatives and famous friends, including Kelly Clarkson and Wendy Williams. New episodes begin airing Saturday, November 9th at 10:30am ET/PT on Food Network. – Read more at Broadway World.com
NFL and Grand Ole Opry Welcome Mandisa for Breast Cancer Awareness Efforts – The NFL and the Grand Ole Opry welcome Mandisa for their Breast Cancer Awareness month efforts. Kicking things off, Mandisa will perform the national anthem during this Sunday night's NFL Network game featuring the 49ers and Texans (7:30 PM CT, NBC). During her performance, she will be joined by members of the 49ers family who are survivors. The Grand Ole Opry has also asked Mandisa to join their Women Rock For The CureTM in the fight against breast cancer on Tuesday, Oct. 22 with its fifth annual "Opry Goes Pink" show. GRAMMY® winner LeAnn Rimes will flip the switch on the Opry's signature barn backdrop, turning it pink for the night as Mandisa and other artists perform in support of breast cancer awareness.- Read more at BreatheCast
Celebrity to host 'American Idol' finalists at sea – Celebrity Cruises is launching a series of concerts, Q&A sessions and autograph signings by finalists from past seasons of the popular Fox TV show American Idol. On the line's Christmas cruises in the Caribbean, two American Idol singing artists will perform on each sailing. The lineup includes runner-up finalists Bo Bice (fourth season) and Blake Lewis (sixth season), as well as Elliot Yamin, who placed third in the show's fifth season and whose self-titled album debuted at number one on the Billboard Independent Albums chart and number three on the Billboard 200. Also appearing onboard will be Kimberly Caldwell (second season), Melinda Doolittle (sixth season), Matt Giraud (eighth season) and Mikalah Gordon (fourth season). – Read more at USA Today
Constantine Maroulis & Randy Jones to Guest as 'Shaman' in THE DEAD DREAM MACHINE, 10/11 & 13 – RAGING SQUID INK and ERIC SCHMALENBERGER are thrilled to introduce the celebrity guest artists performing the role of SHAMAN in Jake Thomas' horror experience THE DEAD DREAM MACHINE, video art by Sean Gill and directed and choreographed by Around the World in 80 Days' Rachel Klein. In the final scene each night, the SHAMAN with sing a gothed out orchestral version of Nick Cave's "There is a Kingdom. – Read more at Broadway World
'American Idol' judges feel the love from local talent – "There was a lot of talent here," Connick said. "Which is really cool, because, frankly, you don't think of Salt Lake City as a music town. You just don't. And I think all of us were pleasantly surprised." This is "Idol's" third stop on the Season 13 audition tour — after Austin, Texas, and Boston — and "in comparison to some of the other cities as well, we were blown away," Lopez said. "There were a lot of people that we wound up putting through, and that we think could really do the distance." – Read more at Salt Lake Tribune
Adam Lambert Brings Some Style to Beverly Hills – Out for a day of fun and friends in Beverly Hills, singing superstar Adam Lambert paid a visit to Barney's for some shopping today (October 3). Looking cool with his hair gelled up, the 31-year old wore orange shades, a blue button down over a patterned brown and orange tee and completed his look with a pair of skinny khakis and a bracelet. – See the Photos at Gossip Center
Adam Lambert FIASCO Magazine
Adam Lambert instagramed this photo from FIASCO magazine.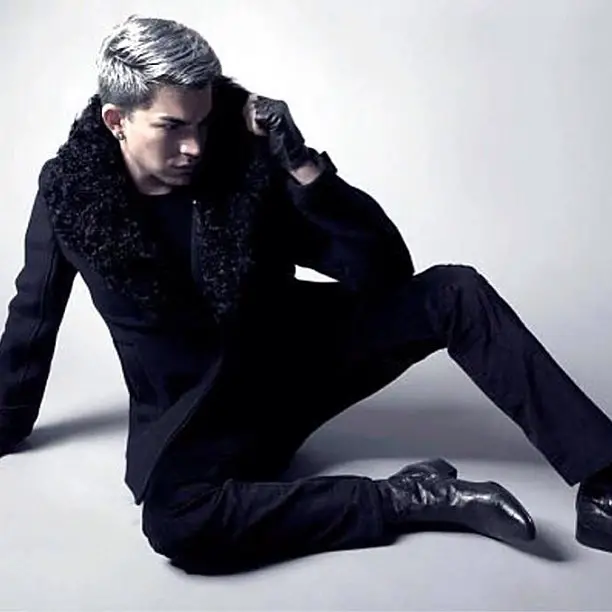 Scotty McCreery – See You Tonight Behind the Scenes
Kelly Clarkson Driving Related Questions for State Farm
Singer and songwriter Kelly Clarkson answers your driving-related questions. She is teaming up with State Farm for its Celebrate My Drive program. Together, they are encouraging new teen drivers to make positive choices as they hit the road.
Jennifer Hudson: Punk School Girl or Southern Streetwalker? – We're not sure where Jennifer Hudson is headed in this getup, but the answer shouldn't be a red carpet event. The Inevitable Defeat of Mister and Pete star has us seeing two separate visions on accont of her mix-and-match separates. The first: a goth girl gone wild at a Catholic school. The second: a southern girl turned to the dark side, and likely standing on a corner somewhere. – See the Photo at E News
'Voice' Coach Debra Byrd Appointed Vocal Chair at Musicians Institute – For singers with vocal problems, a surefire solution is hiring one woman: Debra Byrd. "I could be performing in a show, and they'd say, go to Byrd, she'll fix it," explained the former American Idol coach and current vocal coach of the NBC show The Voice in a Musicians Institute video. "And I would." The coach has now joined the the Musicians Institute' Hollywood college of contemporary music as their Vocal Program chair. Byrd has previously taught master classes at the University. – Read more at The Hollywood Reporter
'Survivor: Blood vs. Water': Colton Cumbie on Why He Quit and Whether He Has Any Regrets – The two-time competitor talks to THR about what prompted his crying fit and subsequent decision to leave the game, shares his reaction to Jeff Probst's verbal takedown at Redemption Island, and asks the producers to "lose my number." – Read more at The Hollywood Reporter
'So You Think You Can Dance's' Cat Deeley Joins Hulu Series 'Deadbeat' (Exclusive) – Cat Deeley talks to dead people in her exciting new role. The British actress and "So You Think You Can Dance" host will co-star on Hulu's new supernatural comedy series, "Deadbeat," TheWrap has learned. "Deadbeat" follows Kevin Pacalioglu (Tyler Labine), a ne'er–do–well medium who helps New York's ghosts settle their unfinished business. Deeley will play Camomile White, who's both a nemesis and love interest to Labine's Kevin. She's described as a charismatic, beautiful celebrity medium who has parlayed her fame into a multi-faceted business empire and is a celebrated author of ghost erotica. She has a public persona as America's Supernatural Sweetheart but behind-the-scenes is a manipulative, aggressive businesswoman. – Read more at The Wrap