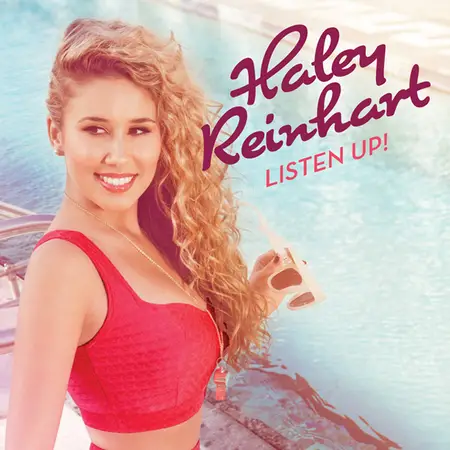 Check out the track listing for Haley Reinhart's debut album Listen Up! due out May 22nd, after the jump. Bonus: performance video, a new Voice Of America Haley interview with a NEW track played, and songwriting credits!
UPDATE: Back cover and deluxe tracks!
UPDATE: Added Haley's album cover art!
Haley cowrote all but one song (lead single "Free") on her debut album.
1. "Oh My!" – Featuring B.o.B. (Rob Kleiner, Maureen McDonald aka Mozella, Haley Reinhart)
2. "Free" (Michael Busbee, Lucie Silvas)
3. "Liar" (Rob Kleiner, Haley Reinhart, Samuel Watters)
4. "Wasted Tears" (Jonathan Green, Michael Busbee, Haley Reinhart)
5. "Undone" (Rob Kleiner, Maureen McDonald aka Mozella, Haley Reinhart)
6. "Now That You're Here" (Chris DeStefano, Haley Reinhart, Samuel Watters)
7. "Wonderland" (Haley Reinhart, Chris Seefried)
8. "Keep Comin' Back" (Rob Kleiner, Steve McEwan, Haley Reinhart)
9. "Hit The Ground Runnin'" (Mike Elizondo, Aimee Proal, Haley Reinhart)
10. "Walking On Heaven" (not yet confirmed but this is also a Haley cowrite)
Bonus tracks:
11. Follow Me (I'm Right Behind You)
12. Spiderweb
13. What You Don't Know
14. Let's Run Away
Track listing via Walmart
Also check out this new Voice Of America interview with Haley, featuring a stream of the very retro "Wonderland" at the 11:15 mark of the approximately 20 minute interview! The interview discusses the American Idol experience, how Haley's outlook on music has evolved because of the AI experience, her biggest post-Idol highlight, her level of pre-Idol vocal training, songwriting, touring, and what Haley will be doing on May 22nd, the day her debut album comes out.
Album cover art via Album Art Exchange