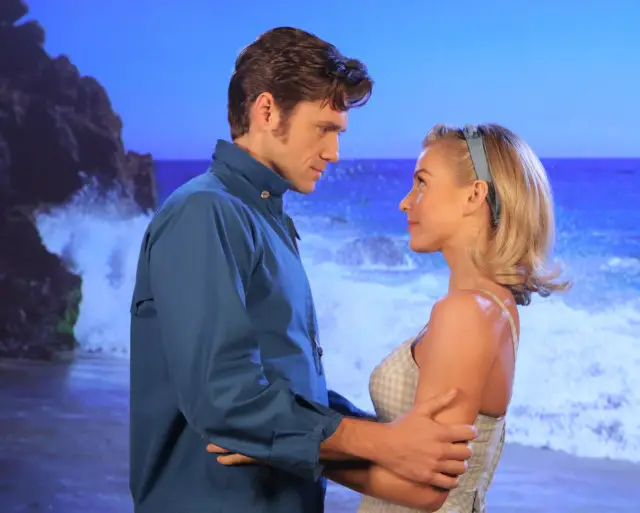 Are you watching Grease Live? It was raining outside when the production began. The chorus held umbrellas aloft as they danced behind Jessie J, who made her way through the studio lot, WITHOUT an umbrella. Big ups for that. So far, I'm enjoying the musical numbers. Some of the actors need to remember they're performing for cameras. No exaggerated mugging necessary!
I'll be back later with a longer recap and performance videos. Meanwhile, share your opinions in comments.
***
Whoa FOX. Grease Live was one ambitious and complicated production. So many soundstages, and the camera work was just amazing. The directors Thomas Kail and Alex Rudzinski created a cinematic television masterpiece. It wasn't perfect. There were some audio problems, and little things went wrong here and there, but no major mishaps. Which, considering all of the moving parts, is pretty impressive. 
It makes The Wiz over at NBC look pretty staid–rooted as it was to one or two sound stages. However, Grease Live didn't come close in terms of stand out musical performances.
I wasn't blown away by anybody. Julianne Hough was cast to type. She's a much better dancer than singer. Aaron Tveit is a seasoned Broadway actor, and I enjoyed him overall,  but didn't have a ton of chemistry with Julianne. Vanessa Hudgens was cast well as tough girl Rizzo. But when it came time for her big solo, "There Are Worse Things I Could Do" it fell flat. But I'll give her a pass. Her father lost his battle with cancer only last night. A sad event that could knock anyone off their game. I was also rooting for "Pink Lady" Carly Rae Jepsen, but her solo, "All I Need is An Angel" lacked oomph. Part of the problem was the new song, which was an unnecessary addition.  I'm also not sure why an entire group, Boyz II Men, were required to play "Teen Angel." It would have been more focused if it had stayed a solo.
Jordan Fisher (Doody) and Keke Palmer both have voices to die for, however.  Mario Lopez was perfect as Vince Fontaine, as was SNL alum, Ana Gasteyer as the principal. Elle McLemore's Patty Simcox was hilarious.  Did you all catch Eve Plumb (Jan from the Brady Bunch) as the shop teacher? And the still adorable Didi Conn was fun to watch as the waitress.  Choreographer, Zach Woodlee, who lent energy and spontaneity to many performances over six season of Glee brought his A game to Grease Live.
The real star of Grease Live was the creative and fast moving production, which almost made me forget that I'm just not a big fan of Grease. There's not much of a book, and much of it makes little sense. Sandy spent the entire school year sticking to her guns. This is who I am! Until….who knows why she suddenly felt the need to sex it up? She comes out in her skin tight clothes and teased up hair…and that's a wrap folks. Pretty disappointing. Also not a big fan of the songs added to the movie, "Grease (is the word)" in particular sounds hopelessly dated almost 40 years later.
However, the production was a cornucopia of sights and sounds and I will probably watch it again at some point just to figure out how they did it all, and marvel at that crazy camera work. Ohhh. The costumes were really fab, too.  The 4th wall breaking curtain call was exhilarating. The folks at NBC really should consider adding that particular element to their productions.
Grease Live stars Julianne Hough (Sandy Young), Aaron Tveit (Danny Zuko), Vanessa Hudgens (Rizzo), Carlos PenaVega (Kenickie), Carly Rae Jepsen (Frenchy), Keke Palmer (Marty), Kether Donohue (Jan), David Del Rio (Putzie), Jordan Fisher (Doody), Andrew Call (Sonny), Boyz II Men (Teen Angel), Mario Lopez (Vince Fontaine), Ana Gasteyer (Principal McGee), Eve Plumb (Mrs. Murdock), Yvette Gonzalez-Nacer (Cha Cha), Elle McLemore (Patty Simcox), Noah Robbins (Eugene) and Jessie J performing "Grease (is the word)" to kick off the production.
Watch a slew of performances from Grease Live!
Jessie J – Grease (is the word) – – Watch Video 
Julianne Hough, Aaron Tveit (entire cast) Summer Nights –  Watch Video 
Keke Palmer – Freddy My Love – Watch Video
Vanessa Hudgens – Look at Me I'm Sandra Dee – Watch Video
Grease Lightnin (The Boys) – Watch Video
Jordin Fisher – Those Magic Changes – Watch Video
Carly Rae Jepsen – All I Need is An Angel – Watch Video
Boyz II Men – Beauty School Dropout – Watch Video
Joe Jonas and DNCE Perform – Watch Video
Hand Jive (Spring Dance Off Full Cast) – Watch Video
Julianne Hough – Hopelessly Devoted to You – Watch Video
Aaron Tveit – Sandy – Watch Video
Vanessa Hudgens – There are Worse Things I Can Do – Watch Video
Julianne Hough, Aaron Tveit and Cast – You're the One That I Want – Watch Video
Cast Curtain Call – We Go Together – Watch Video