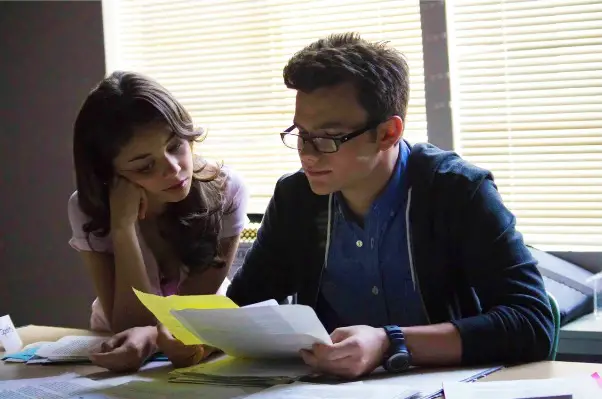 Sarah Hyland and Chris Colfer – Struck by Lightning – Tribeca Films
Watch the official trailer for Struck By Lightning, the movie written and produced by Glee star Chris Colfer. The film will be released in select theaters and VOD in December.
The dark comedy stars Chris as ambitious but unpopular student, Carson Phillips, who is willing to do anything–including blackmailing his fellow students to write for his literary magazine–to get into the college of his dreams.
Drama at school is matched at home, where his alcoholic mother (Allison Janney) is confronted by her deadbeat husband (Dermot Mulroney) finally looking for divorce in order to marry his young girlfriend (Christina Hendricks).
From what I'm hearing, the film will bring on both laughs and tears. Kinda sounds familiar, doesn't it? Chris plays a very different character in Struck By Lightning than his iconic Glee character, Kurt.
The film boasts an all-star cast that also includes Pitch Perfect's, Rebel Wilson, Modern Family's Sarah Hyland, The Office star, Angela Kinsey and Polly Bergen.
Watch
http://youtu.be/-brKDZWhobQ