On Monday, the Glee cast finished shooting the big 100th episode celebration aptly titled "100". The story brings back all the original cast members, plus Kristin Chenoweth and Gwyneth Paltrow return as April Rhodes and Holly Holiday, respectively.
In the first of a two part celebration, Sue Sylvester (Jane Lynch) finally manages to disband New Directions. Everybody converges on McKinley High to pay tribute and say goodbye to Mr. Shue (Matt Morrison).
Described as both hilarious and moving "100" will air on Tuesday March 18.  It's a two-parter that concludes with "New Directions," airing March 25.
We posted a first batch of photos and twitter updates from "100" HERE. But another week of shooting has produced enough intel for round two!
For "100" song spoilers click this link. And as a super special bonus, we bring you EXCLUSIVE song spoilers for "New Directions" at this link.
Director, Paris Barclay, in a recent interview with US Magazine said that "100" will deal with the death of Cory Monteith and his character, Finn Hudson in a significant way:
I don't think it could go much farther without continuing to talk about how that hurts," Barclay admitted. "There is so much feeling there and it affected the Glee family in such a profound way, and you can expect it to be dealt with in the 100th episode. It definitely comes back and is dealt with in a significant way.
Kristin and Gwyneth have scenes together, and Barclay says "The two of them together are hysterical."
Check out the timeline of photos and tweets below.
A crew member posted this photo of Finn's football jersey hanging in the locker room. *tear*
Quinn (Dianna Agron) and Puck (Mark Salling) looking cozy at Breadstix, with the gang. There will be a Quinn-Puck storyline that might involve a kiss… Quinn brings along her degenerate Yale boyfriend, played by Chase Crawford. I have a feeling he won't last very long.
— Joaquin Sedillo (@JOAQUINSEDILLO) January 21, 2014
Great week! New Directions, Old New Directions, Singing, Dancing, Laughter and a couple of EPIC KISSES! ????#JOAQUINthegleeDP ????

— Joaquin Sedillo (@JOAQUINSEDILLO) January 18, 2014
Rachel singing with April and Shue in the background. Could it be "Defying Gravity"?
What is Rachel up to now?? #glee100thepisode pic.twitter.com/95MsvUjI16

— Lea Michele (@msleamichele) January 21, 2014
Singing on the #glee set tonight! So happy to work w/ the amazing @KChenoweth! I ?? her so much! #glee100thepisode pic.twitter.com/r1LZ1gIcjR — Lea Michele (@msleamichele) January 21, 2014
Look. It's Kurt (Chris Colfer), maybe from the same scene? He, Rachel and Mercedes (Amber Riley) sing the song as a trio.
Early morning at Glee. Two words for you, Unholy. Trinity. #Glee100

— Naya Rivera (@NayaRivera) January 20, 2014
Santana (Naya Rivera), Quinn and Brittany (Heather Morris) are performing "Toxic" together. Naya looking sexy…
And did I mention @GwynethPaltrow is here? AMAZING! #glee100thepisode

— Lea Michele (@msleamichele) January 21, 2014
"Hola Clasé!" #JOAQUINthegleeDP — Joaquin Sedillo (@JOAQUINSEDILLO) January 23, 2014
They're back! pic.twitter.com/o09lSZpSua — Ryan Murphy (@MrRPMurphy) January 23, 2014
Thuggin' it out with the "originals" for this last scene tonight. Early morning flight tomorrow, still haven't packed as always ????????

— Amber Patrice Riley (@MsAmberPRiley) January 23, 2014
Wish I could explain why I've been bawling on the set of #glee100 tonight. But after the show, you'll know. pic.twitter.com/SbiBzFgcol

— Paris Barclay (@Harparbar) January 23, 2014
Good morning! This sure doesn't look like morning….. Hair & makeup done. Going to go back to sleep in this guy. pic.twitter.com/Mbf5UgwmKj

— Dianna Agron (@DiannaAgron) January 27, 2014
Heres to the late @jennaushkowitz RT @jacobartist: Harassing http://t.co/ctCVPwRlJt — Mark Salling (@MarkSalling) January 27, 2014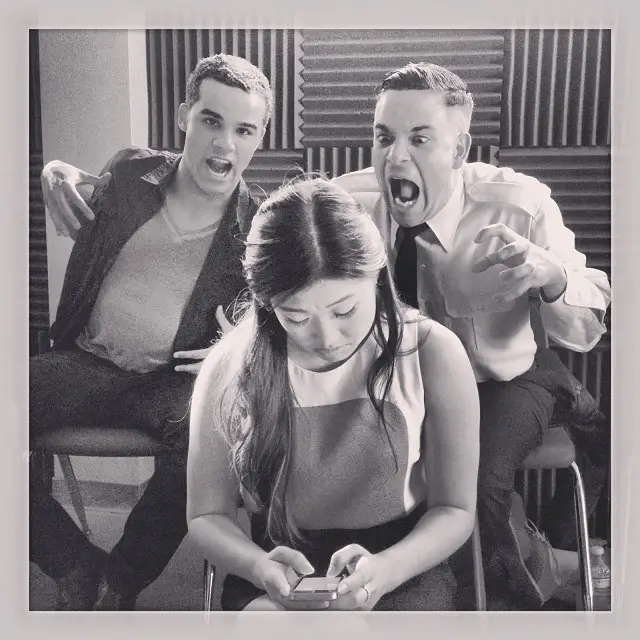 That's a wrap on #glee100 episode! Loved being around this lovely lady all week:) @kchenoweth ?? http://t.co/nwV7rN0XgQ

— Jenna Ushkowitz (@JennaUshkowitz) January 28, 2014