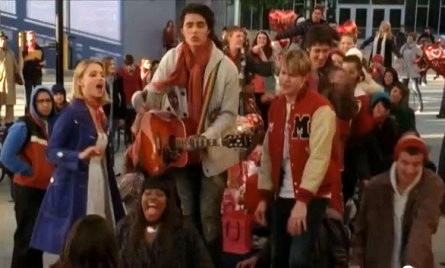 Glee video goodies from "Heart" the Valentines day special set to air on February 14. Watch Glee Project co-winner, Samuel Larsen make his debut as Joe Hart, a new a new nonconformist student at McKinley who helps spread a message of acceptance.
Mercedes (Amber Riley) and Sam (Chord Overstreet) join Joe for a performance of Gym Class Heroes "Stereo Hearts". Rachel (Lea Michele) looks very excited!
Listen to the music from Heart
Speaking of Rachel, her two gay dads make THEIR debut, played by Jeff Goldblum and Brian Stokes Mitchell. Here's a little clip of them together. Awesome line, "Leroy! We agreed to sing it straight, no vocal runs…that's how Jennifer Hudson got kicked off of American Idol." In the clip, the couple visit Rachel at school after they learn their daughter is engaged to Finn from his parents.
Also, a behind the scenes sneak peek of the episode! Vanessa Lengies talks about the love triangle between her and Rory (Damian McGinty) and Artie (Kevin McHale). The two suitors try everything to win her over. Sugar is throwing a party and cannot decide who will be her date. There are clips of Artie and the boys singing Mario's "Let Me Love You."
Stereo Hearts
http://youtu.be/mbUeKyzAiqU
Rachel's Dads Pay a Visit
http://youtu.be/x_Y73MdCeKA
Heart Behind the Scenes
http://youtu.be/h_QQEooZO_I