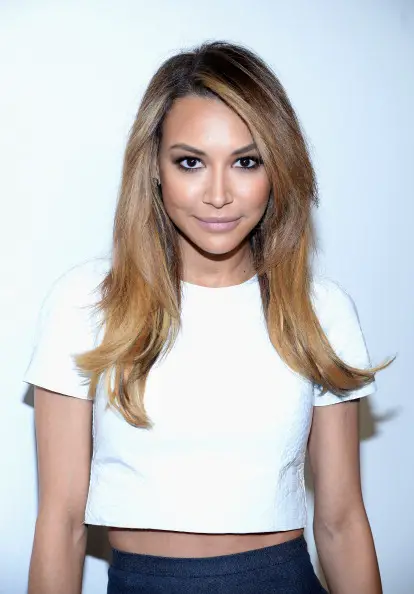 Glee star, Naya Rivera, has not been winning at life lately. Recently, her engagement to rapper Big Sean came to an abrupt end.  Soon afterward, reports surfaced that she was fired from Glee after an on set incident with fellow cast member, Lea Michele.  This, after reports that Naya would NOT be returning to the musical comedy for season 6 had surfaced.
Now, Billboard is reporting that the singer/actress has been dropped by her label, Columbia Records
Naya Rivera is no longer on the Columbia Records roster, multiple sources have confirmed to Billboard. The "Glee" star signed with the label in 2011, and did not release a full-length with Columbia.

The 27-year-old, who plays Santana Lopez on the hit Fox series, was one of the first "Glee" actors to land a solo record deal, and announced plans to begin work on an album in summer 2011. Last September, "Sorry," Rivera's debut single featuring then-boyfriend Big Sean, was released; the song did not chart on the Hot 100 and has sold 34,000 downloads to date, according to Nielsen SoundScan.
Soon after the Billboard report appeared, Naya's released a weird, angry and somewhat paranoid statement.
The newest story claiming that Naya Rivera was dropped from her recording contract with Columbia Records is absolutely false. If the 'news' outlets who put out this story had bothered to contact anyone from her team they would have learned this was false.

To be clear, any rumors or statements made as fact, that Naya Rivera was fired or let go from Glee or dropped from her recording contract, are categorically false. Someone obviously has an agenda to damage Naya's good name and the media are failing at their duty to responsibly vet their sources and verify what is true and what is not. Naya's attorneys are prepared to take any and all legal action to enforce and protect her rights.
Who is handling Naya's publicity? Threatening legal action against media outlets for reporting based on anonymous sources?  These are ridiculous threats that no media outlet will take seriously.
If Billboard is reporting that an artist has been dropped by their label, it's likely true. Those of us following reality show stars who are constantly losing their contracts know this very well.
Also, Naya was "fired" from Glee. She was dismissed abruptly on April 15 and was subsequently written out of the rest of the season. I don't know what else you call it.
Via Billboard, Just Jared