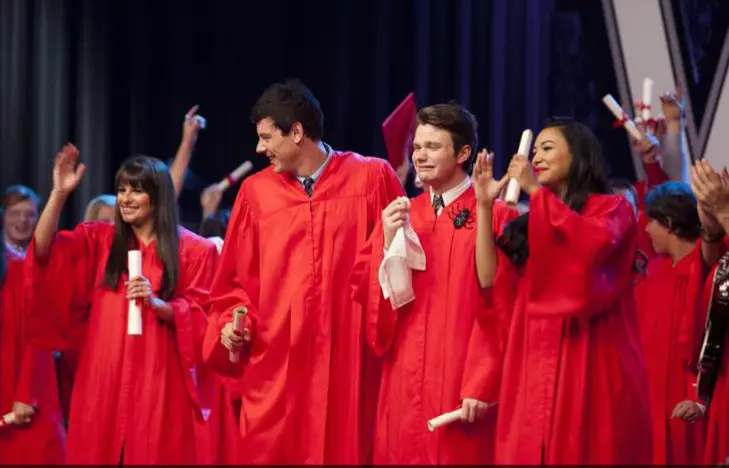 Production on Glee Season 4 begins in July which means, it's time for spoilers! Will Finn (Cory Monteith) be headed to the army? And how long will he stay? After being rejected from NYADA, will Kurt (Chris Colfer) remain in Lima with Blaine (Darren Criss), or head to New York City to chase his dreams of becoming a performer…or something else? And what will happen to Rachel (Lea Michele) as a freshman at NYADA?  Also, we know  guest stars Kate Hudson and Sarah Jessica Parker will be mentoring Rachel and Kurt respectively….but in what capacity? Plus Chord Overstreet dish!
Read on for  some answers!
Kate Hudson's character will be playing a hard-ass dance instructor at NYADA, Lea Michele revealed to TV Guide on the Chrysalis Butterfly Ball red carpet last week,
When Glee returns to Fox on Sept. 13, Kate Hudson will have joined the cast as a hard-ass New York Academy of the Dramatic Arts dance instructor, pitting her against new student Rachel (Michele). "Dance is not Rachel's strong point, but as a freshman it's a requirement class she has to take," Michele says. "It will put Rachel in a very vulnerable place, stuck with a teacher who doesn't make it easy for her."
Lea's Chrysalis Ball date, and real-life boyfriend, Cory Monteith pretty much confirmed to TV Guide that  he'll be heading off to army boot camp:
As for Monteith's Finn, it sounds as though he's headed to Army boot camp! "Finn would have to be in very good shape and get incredibly fit, meaning I would have to be incredibly fit," says the actor. "I'm doing extra stuff this summer — CrossFit and fewer Snickers bars."
But, Finn WILL return from the army, Cory revealed to The Gold Derby in a recent interview:
"You will see Finn next year. He will return from the army. I can't tell you in what capacity, but you will see him in season 4."
 Chris Colfer told TV Line that he expects Kurt to be back in "full force" next season…
"We'll see if he still wants to be a performer," Colfer muses. "I don't know if he's hardened after that [NYADA] experience." And what about Kurt and Blaine? "I almost can't say anything without giving [something] away," he hedges. "They're still together as far as I know. So we'll see where that takes them."
However, whatever Kurt will be doing, it WILL be in New York City, and it WON'T be at NYADA,  Chris revealed to TV Guide:
Expect him to find his way to New York City — but not as a student at NYADA, which will hold firm on its rejection. Instead, "he will find himself in an establishment where Sarah Jessica Parker is his manager of sorts, but not in a performance sense," Colfer told me at the Critics' Choice Television Awards.
Michele has heard that Parker's character may be giving Rachel a makeover, which suggests a New York fashion-world story line for Kurt. Says Colfer: "Lea's a hot girl, [but] Rachel could lose the baby-doll dresses."
Last month at the FOX upfronts, Chris told a reporter on the red carpet that he's really happy with the direction Kurt is taking in Season 4, because it's something he always envisioned the character pursuing. Chris has said on several occasions, that until he was handed the 1st Season 3 script, he always imagined Kurt pursing fashion.
One final tidbit: Chord Overstreet told a reporter at the Much Music Awards last week that Sam will keep his seat in the choir room, "I know they're bringing me back. I think I'm going back there. I'll be a senior this year… I'm sure you'll see old familiar faces pop in and out, and it's going to be a really fun storyline."
The question is, will Chord finally become a series regular? You may remember that Chord turned down an offer to continue on Glee Season 3 as a guest star, but finally came to terms with the producers to return in Episode 8.
So what do you think? Are you excited about the possible Glee storylines? What do you think will happen to Glee characters in Season 4?
BONUS:  Zap2it is reporting some CASTING NEWS: "Seeking Quinn 2.0! Dianna Agron's character has graduated from McKinley, but it wouldn't be a high school show without a blonde cheerleader type. Ryan Murphy is currently casting for a 16-year-old "beautiful, bitchy" blonde — with some serious moves. Only expert dancers need apply for the major recurring role, which could turn into a series regular deal."
Here are my thoughts:
After Kurt spent an ENTIRE season chasing a dream to enter a performing arts school, I have a hard time seeing him give up on that dream so easily. If he is working in fashion, I hope for now it's just a day job, while he pursues performance opportunities on the side.
I am keeping my fingers crossed for some major Santana/Kurt interaction. Ideally, they will take off for NYC together and become roomates.  I would love to see these two interact in a meaningful way.  Underneath Kurt's vulnerability, lies a real toughness. Santana's hard edge masks her vulnerability. These two resilient characters could bring out the best in each other. Plus: DUETS people. Duets!
I don't expect Finn to stay in the army very long. Here's my speculation: He's off to bootcamp, but will experience some sort of mishap that earns him a discharge. Much drama ensues. Maybe Rachel rushes back to Lima to be by his side. Before you know it? Finn makes his way to New York City.