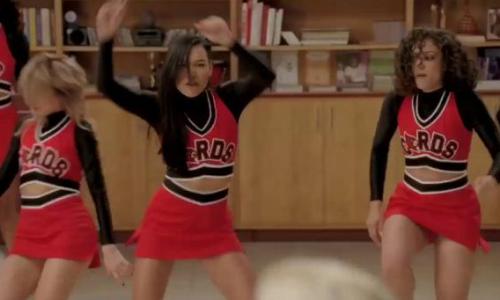 Calling fellow Naya Rivera fans! Check out this brand new sneak peek of this week's Glee titled "Diva".
In this new clip, Naya explains that her character, Santana, returns to Lima when Tina (Jenna Ushkowitz) tips the University of Louisville cheerleader that her  former girlfriend, Brittany (Heather Morris) is dating Sam (Chord Overstreet).
Santana does not return to Ohio alone. She brings a few of her fellow cheerleaders with her–all the better to illustrate to the New Directions newbies EXACTLY HOW DIVA IS DONE.   Santana and the gals kill it in a performance of Tina Turner's "Nutbush City Limits."
Read More:
Glee Season 4 – Diva – Listen to Full Songs! (AUDIO)
Glee Season 4: Diva 4×13 Video Preview!
Glee Season 4: Diva 4×13 – Photos, Song Spoilers and More
Glee Photo Spoilers from "Diva" and "I Do" 
Between the overdose of Naya goodness and what's sure to be another EPIC sing-off between Rachel (Lea Michele) and Kurt (Chris Colfer) I totally can't wait for Diva, airing Thursday February 7 at 9/8c on FOX.
http://youtu.be/sS3ArAmJho8
Diva Photo Gallery