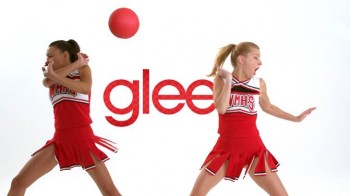 Tonight, FOX will debut a brand new 30 second spot to promote Season 3 of Glee.  The first episode airs on September 20.
Looks like Sue Sylvester (Jane Lynch) is still up to her old tricks, even after the gang were so sweet to help plan her sister's funeral last season!
And instead of slushies, the kids get wacked with nerf dodge balls. Well, I guess you could say it's a kinder, gentler Sue. Sort of.  It's all set to the Go Go's "We've Got The Beat".
http://youtu.be/aFLU9zi4TeM
There have been a few spoiler tweets from the cast in the last couple of days. Currently they are shooting Season 3 episode 2.
From yesterday:
@msleamichele: "About to shoot a really cute finchel scene with @CoryMonteith"
@iqbaltheba (principal figgins) "Working today doing a scene with Idina Menzel… so looking forward to it. @Bradfalchuck directing"
@chriscolfer: "I'm filming something very dangerous and possibly life threatening tomorrow for episode 3-02 of Glee…yes, it was my idea."
Today:
@msleamichele: "Morning friends! Just got to work.. Getting ready to shoot a scene w/ @Idinamenzel :) I'm so happy she's back!"
@msleamichele: "If some1 told me 4 years ago when i was in SA that Idina & I would be on tv show together I would have never believed it! #dreamscometrue"
@msleamichele: "Rachel cries a lot on Glee but only a few times have I cried from singing a song or something.. And this scene/song is so emotional! Think you guys are gonna like it"
@msleamichele: "Getting ready to shoot my second scene of the day with @druidDUDE Jayma Mays and Dot Marie!!"