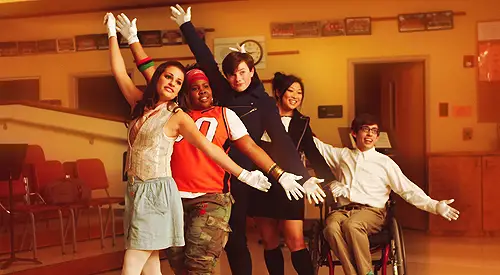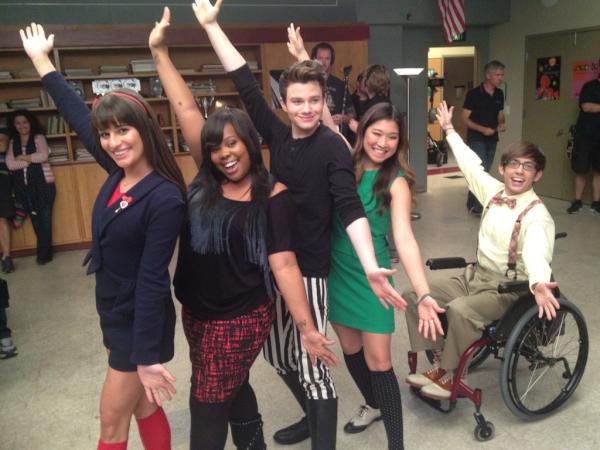 Directed by Brad Falchuk
In the last episode of Glee Season 3,  the seniors graduate and we find out where each is headed. Some of the scenes in the last episodes incorporate clips from the pilot to highlight the journey they have all taken.
In case there is any confusion, graduation status of Glee clubbers:
Graduating: Rachel, Finn, Kurt, Santana, Mercedes, Mike, Quinn, Puck
NOT graduating: Tina (Jr),  Artie (Jr), Blaine (Jr), Rory (Soph), Sam (Jr prob), Joe (Soph), Sugar (?)
Brittany is a senior but she IS NOT GRADUATING
NEW: In terms of Santana's future, the narrative definitively sets up the possibility of New York as her destination for the next year. The idea is brought up a couple of times during the episode. Brittany, as previously spoiled, does not graduate. No shock on her part and to an extent she's happy about it. More screen-time goes into how this affects Santana than on how this affects Brittany. (FYeahGlee)
NEW: Seniors sing a song to the Juniors  ("You Get What You Give" probably) Juniors sing a song to the Seniors. (via photo captions and promo)
NEW: Guest Stars:
James Lipton, Director of the Actors Studio as Himself
It appears that Finn will be accepted into the actors studio (You Tube)
"My dialogue is exactly what I say to students who audition for the Actors Studio."
"I envy [Cory's] looks, his height, and his talent, and I look forward to acting with him.
Gloria Estefan as Santana's mom.
Maribel Lopez  once had dreams of stardom, but she put them aside to raise her family.
She is also really sarcastic (The apple doesn't fall far from the tree)
She REALLY wants her daughter, Santana to go to college.
She's a supportive mother she accepts Santana's relationship with Brittany.
Listen to FULL SONGS from the Glee Graduation album
NEW: In My Life
Confirmed Song Spoilers
I'll Remember – Madonna – sung by Kurt
You Get What You Give – New Radicals sung by Rachel, Mercedes, Puck and Finn
 The End – The Bravery sung by Finn
Roots Before Branches – Room for Two- sung by Finn and Rachel (Part of the train montage as Rachel takes off for New York City alone)
Glory Days – Bruce Springsteen -sung by  Puck and Finn (Sung during the graduation ceremony)
Forever Young – Bob Dylan sung by Will
In My Life by The Beatles – Sung by the Juniors to the Seniors
Random Spoilers
Rachel and Quinn have a goodbye scene.  "they even go as far as having Rachel tell Quinn that she always thought Quinn and Puck would end up together…I do know [Quinn]  has a scene with Rachel in the finale that at least opens the door for her to make guest appearances. It's a nice scene between them. Quinn gives Rachel something. (Broken Shutters)
Question: Do you have any news on any Santana/Brittany romance on Glee?  Yes, but it's not necessarily good news. The lovebirds encounter a major roadblock in next week's finale. Hint: The fit hits the shan at a pre-graduation dinner at Breadstix that's attended by Santana, Brit and one Dame Gloria Estefan. (TVLine)
Kurt and Blaine have a "nice end" (they don't break up)
Dance routines harken back to Season 1, including the original 5–Rachel, Kurt, Mercedes, Artie and Tina performing what looks like "Sit Down You're Rocking the boat."
Burt Hummel in a dance number with Tina and Brittany. Single Ladies!
Seniors dance around the underclassmen  in a circle.
Puck and Quinn kiss
Quinn tearfully says goodbye to Sue.
Blaine asks Kurt "Are we going to be alright?" Kurt answers, "I told you. I'm never saying goodbye to you." Line is from "Born This Way" when Kurt hugged Blaine goodbye after transferring back to McKinley.
Finchel kiss at graduation. Rachel tearfully tells Finn that she loves him so much. "I will love you forever," he responds.
NEW:  "Goodbye" will end with a Finchel cliffhanger.  – Speaking of Cory, here's what Michele had to say about Finn and Rachel in the season finale: "There's a turn, one way or another. It's definitely left with a cliffhanger. There's a very big cliffhanger for us." As for Kurt and Blaine's status, come graduation, Colfer promises a definite resolution, unlike the Finchel cliffhanger. "They definitely zig and then at the end of the finale they have to zag," he says. "They are going to zig and zag. They don't really have a cliffhanger." (EOnline)
FOX Photos:
+NEW: Details from the last day of shooting HERE and HERE.  Rachel and Finn shoot scenes outside of Rachel's house. They appear to be leaving for the train station.  Chris Colfer and Matthew Morrison were back at Paramount shooting scenes.
NEW:  Glee filming a train scene on May 9  See photo HERE.  The crew filmed a huge goodbye scene at a train station yesterday. The Glee club was there to send Rachel off to New York City (She's wearing the outfit from the scenes that were shot in New York City) Finn waves goodbye as the train pulls out.  HollywoodLife has video of Finn chasing the train as it pulls away.  A recording of Rachel and Finn's "Roots Before Branches" plays during the scene. Check it out HERE.
Anything about Rachel and her plans to get a second chance at her NYADA audition?  Rachel is fully prepared to go to any place necessary to get her shot at making it in New York. And we mean "place" in both the physical and mental aspect.
Anything on Kurt and Blaine in the finale?  Just remember that Kurt and Blaine are not your average teenage couple, so it's very possible that their post-high school relationship decision will reflect just that. (EOnline)
Official FOX Press Release:  SCHOOL'S OUT ON THE ALL-NEW SEASON FINALE OF "GLEE" AIRING AT A SPECIAL TIME, TUESDAY, MAY 22, ON FOX
In the Season Three finale, graduation is finally here, as McKinley High's class of 2012 looks to the past and present, while contemplating the future in the all-new "Goodbye" season finale episode of GLEE airing at a special time Tuesday, May 22 (9:00-10:00 PM ET/PT) on FOX. (GLE-322) (TV-14 D, L)
Guest Cast: Chord Overstreet as Sam Evans; Lauren Potter as Becky Jackson; Iqbal Theba as Principal Figgins; Damian McGinty as Rory Flanagan; LaMarcus Tinker as Shane; Samuel Larsen as Joe Hart; Dot Marie Jones as Coach Beiste; Vanessa Lengies as Sugar Motta; Eric Bruskotter as Cooter Menkins; Lindsay Lohan as Herself.
A few details:
Gloria Estefan will guest star (finally!) as Santana's mom.  She tweeted a photo of herself and Chris Colfer on set http://pic.twitter.com/OKCRySkX
The cast has filmed the last choir room scene of the season. There were, reportedly, lots of tears.
Lea Michele filmed on location in New York City, including Grand Central Station and Madison Square park.  Cory Monteith was with her, but only as moral support. He didn't shoot any scenes.  Rachel's scenes are the last of the episode. Read an account HERE.
Jane Lynch tells E News each graduate will get their own little segment:  "Each kid that is graduating, each senior kind of gets their own little story. There is a Kurt (Colfer) story, there's a Rachel (Michele) story, there's a Finn (Monteith) story and a Quinn story, so all the seniors have a little bit of something special happening for each one of them in the episode. (Eonline)

Jane on filming her last scene with Dianna Agro

n: "It caught me by surprise. It was kind of emotional doing my last scene with Dianna, and it really just caught me by surprise at how moving it was. She is just amazing and just a really nice person too. It was like saying goodbye to Dianna, which is a sad thing to do." (

Eonline

)

Chris Colfer tells the Hollywood Reporter that Kurt will find out in the season finale if he makes it into NYADA or not also,  whether or not Kurt and Blaine will do the long-distance thing. "I have a light sprinkling of what they're planning [for Season 4] but it sounds pretty cool," he says. (Hollywood Reporter)
Also, Finn will help Rachel "work hard to make the NYADA situation right" (Hollywood Reporter)
Roz and Sue continue to battle over the Cheerios. Jane Lynch: ""In the finale, they tease something for next semester: Roz proposes to me that we join forces over something and I don't give her an answer right away. It's perhaps something we'll see in the next season." (Hollywood Reporter)
Matthew Morrison confirms that some of the cast will not be coming back for Season 4: "They're treating it very sensitively, because for a lot of these kids it will be their last show," he said. "I'm really happy that they're treating it with such sensitivity and making the stories so great to end the show for some of these people."  Chris, Lea and Cory are confirmed to be returning. (Washington Post)
Filming wraps up for the season on May 10
Graduation ceremony spoilers:
Order on stage Mike, Quinn, Mercedes, Puck, Santana, Kurt, Finn, Rachel.
The extras all behind them and the glee club gets diplomas last because that would happen in the real world. Jesus.
Puck performs glory days as each member is called up.
Naya waves, blows kisses, mouths I love you to Hemo when on stage. Puck/Quinn's mom there siting together, Mikes too I think but maybe not seen cause its a random Asian couple.
Cory/Lea kiss when she gets up on stage.
Kurt and Blaine  hug as Kurt walks on stage. Kurt cries the entire time. (Whatever Person)
The stuff they shot today  (the actual Grad ceremony) seems like it will be part of a montage. There was no dialogue – it was just the gang receiving their diplomas with Puck and Finn singing "The Glory Days". (Tumblr)
Photos from Lea Michel's NYC shoot
Behind the Scenes photos taken mostly by Brad Falchuk
"Goodbye" B-Roll (Shots from Gloria Estefan Breadstix scenes and more)
"Goodbye" Behind the Scenes
Interview with Gloria Estefan
Promo
Tweets
Lea Michele tweets: Back at work! Starting our last episode of season 3 today! Only two weeks left before we wrap for the season! (4/30)
Lea Michele tweets: Dance rehearsal w/ the original 5 @MsAmberPRiley @JennaUshkowitz @druidDUDE @chriscolfer. Cried 4 the first time about the end of the year! (4/30)
Lea Michele tweets: Last Quinn and Rachel scene for the season! Happy birthday @DiannaAgron! We're spending your bday in the girls bathroom:) lol (4/30)
Kevin McHale tweets: Very surreal moment in that rehearsal today. You ALMOST got me to cry!! :'( @msleamichele @MsAmberPRiley @JennaUshkowitz @chriscolfer (4/30)
Jenna Ushkowitz tweets: yes, you guys did make me burst out into tears today… @msleamichele @druidDUDE @chriscolfer @MsAmberPRiley #backtothebeginning (4/30)
Lea Michele tweets: This is how it all began.. http://pic.twitter.com/KQ4Zzgki (5/1)
Jenna Ushkowitz tweets: How bout this! @MsAmberPRiley @msleamichele @chriscolfer @druidDUDE http://mypict.me/mWF8F  (5/1)
Brad Falchuk tweets: Directing S3 finale. How about a scrapbook? http://pic.twitter.com/rMXRxb78 (5/1)
Brad Falchuktweets:@DiannaAgron can't stop crying! http://pic.twitter.com/8nTTt8XE (5/1)
Brad Falchuktweets:  @druiddude looking sharp. http://pic.twitter.com/0dPJuWRV (5/1)
Brad Falchuk tweets: Iceeees! http://pic.twitter.com/WO0guqNQ (5/1)
Brad Falchuk tweets: Chord entertaining Naya. And everyone else. http://pic.twitter.com/rHdZDFLA (5/1)
Brad Falchuktweets: http://pic.twitter.com/KHNYHEf2 (5/1)
Iqbal Theba tweets: Going back to the GLEE set tomorrow!! Get my beautiful suit ready, Lou! (5/2)
Kevin McHale tweets: I will not cry before 1030am. I will not. (5/2)
Damian McGinty tweets: @druidDUDE i could kick you and that could be your excuse…hehe (5/2)
Iqbal Theba tweets: I miss my beautiful muted tweeds suit, Lou (5/2)
Lea Michele tweets: Last day in the choir room… The tears are flowing… (5/2)
Kevin McHale tweets: Waaahhhhhh (5/2)
Lea Michele tweets: Right now i feel the exact same way I felt when I actually graduated high school.. So sad this chapter of my life is over but so excited.. (5/2)
Lea Michele tweets: ..for what's next. I can't wait to see what happens to Rachel next year on season 4 I know it's going to be really exciting… :) (5/2)
John Lock tweets: This many tears before Noon is unheard of (5/2)
Harry Shum Jr tweets: Last choir room scene with everyone together… (5/2)
Vanessa Lengies tweets: Goodbye? Oh, no, please. Can't we go back to page one and do it all over again? –Pooh #glee (5/2)
Damian McGinty tweets: Last scenes in the choir room today with the guys. Super weird. Never seen so many tears in the one day!! (5/2)
Dianna Agron tweets: Two angels on the way back from our lunch break. Miss Heather & @littlelengies http://yfrog.com/h3xuafhj
Naya Rivera tweets: http://twitvid.com/JPRZO – The more you know… An after school message from @mark_salling. (5/2)
Mark Salling tweets: Im auditioning for the Wiggles RT @NayaRivera http://twitvid.com/JPRZO – The more you know… An after school message from @mark_salling. (5/2)
Amber Riley tweets: "are u sick cuz we can share" #iLoveHemo http://via.me/-yq23f8 (5/2)
Amber Riley tweets: Hahaha she was lol i told her i wanted one lol RT @ms_arich: @MsAmberPRiley lmao she looks so serious too. (5/2)
John Lock tweeted: And we's be gone. @ Stage 15: Paramount Studios http://instagr.am/p/KJpy-ggrP1/ (5/2)
John Lock tweeted: @chriscolfer @damianmcginty I think we really are brothers… http://instagr.am/p/KJzRBDArCU/ (5/2)
Iqbal Theba tweets: Back on the set …. Can't believe Seaon3 is almost over…. Time flies… (5/3)
Naya Rivera tweets: Graduation Day  (5/3)
Harry Shum Jr. tweets: Class of 2012 http://instagr.am/p/KLJdvbnEq3/ (5/3)
Lea Michele tweets: As we go on we'll remember all the times we spent together.. #graduationsong (5/3)
Lea Michele tweets: All the seniors are in caps and gowns getting our diplomas getting ready to graduate.. :( (5/3)
Dianna Agron tweets: Graduation. In the same colors as good old BHS. Very strange. Flashbacks. (5/3)
Damian McGinty tweets: I honestly think I might melt. It is soooo hot on set right now…ahhhhhhhh (5/3)
Amber Riley tweets: Timeless and Beautiful. @littlelengies http://via.me/-zd9qc0 (5/3)
John Lock tweets: Thank you Cast, Crew & Fans for an amazing 3rd Season! Im truly honored & blessed to be a part of such a wonderful experience! Love you all!(5/3)
Brad Falchuk tweets: Feeling a bit better. Amazing what some Bruce and some chicken soup can do for a man. Some pics from today… http://pic.twitter.com/Njz5DRzp (5/3)
Brad Falchuk tweets: http://pic.twitter.com/LIs4ZEWx (5/3)
Brad Falchuk tweets: http://pic.twitter.com/gIzt3GWI (5/3)
Brad Falchuk tweets: http://pic.twitter.com/zCnRgqQ5 (5/3)
Iqbal Theba tweets: Thank you GLEE for adding another amazing year to my life. It has been an amazing Journey for me and my family. (5/4)
Iqbal Theba tweets: After my last take when they announced Iqbal just finished S3, the whole crew screamed in perfect unison "Achievement!!". #iLoveGleeCrew (5/4)
Brad Falchuk tweets: Still shooting. Here are some pics. http://pic.twitter.com/FjmeNFWZ (5/4)
Brad Falchuk tweets: http://pic.twitter.com/fwUUWJWM (5/4)
Brad Falchuk tweets: http://pic.twitter.com/vVcuo13Y (5/4)
Cory Monteith tweets: LAX—>NYC :) (5/5)
Lea Michele tweets: NYC wanna have some fun..? :) (5/5)
Lea Michele tweets: It's a very early morning here in NYC.. Got some exciting stuff to do here today… :) (5/6)
Lea Michele tweets: Can u find me…? (5/6)
Lea Michele tweets: By far one of the best days ever… :) #ilovenewyork (5/6)
Naya Rivera tweets: Wrapped by 10am?! I guess there is an upside to a 5am call. Best last two days of work ever! (5/7)
Gloria Estefan tweeted: Saw the very sweet & talented @ChrisColfer on set! I'm so happy to be here finally! Tan dulce y talentoso, Chris! (5/7) http://pic.twitter.com/OKCRySkX (5/7)
Brad Falchuk tweets: http://pic.twitter.com/dmU3dJke (5/7)
Brad Falchuk tweets:  Two from yesterday. Yep. NYC Sunday, back in LA Monday. http://pic.twitter.com/51lgQ4eb (5/7)
Brad Falchuk tweets: http://pic.twitter.com/NKwnxk2y (5/7)
Naya Rivera tweets: At work filming scenes with the one and only @gloriaestefan! (5/8)
Gloria Estefan tweets: First pic of @GloriaEstefan (Mrs.Lopez) on the set of @GleeOnFox..via @Bfalchuk …(G's peeps) http://pic.twitter.com/VvHAIOKH (5/8)
Gloria Estefan tweets: I have to say that working with @NayaRivera was an amazing experience! Que lindo fue trabajar con Naya hoy en GLEE! http://pic.twitter.com/3rFu2kWV (5/8)
Gloria Estefan tweets: My new daughter, @NayaRivera! She's http://pic.twitter.com/cBasM4ct (5/8)
Gloria Estefan tweets: A GLEEful family portrait! Familia feliz! http://pic.twitter.com/hKnGztAq (5/8)
Kevin McHale tweets: Last day of school! (5/9)
Dianna Agron tweets:@littlelengies, last day. http://yfrog.com/h6fa3lqj (5/9)
Dianna Agron tweets: Ms. Morris. http://yfrog.com/g0dlqnhj (5/9)
Dianna Agron tweets: Cuties. @MarkSalling & @chriscolfer http://yfrog.com/ocl7mdkj (5/9)
Vanessa Lengies tweets: Snoozing under snacks http://pic.twitter.com/ucXosRu4 (5/9)
Samuel Larsen tweets: My last day of season 3. Praying very hard that it isn't my last day on the glee set period. I love it here :) (5/9)
Naya Rivera tweets: That's a wrap! (5/9)
Harry Shum Jr. tweets: Ladies and gentlemen! That's a season wrap! It's been a great year & love love to every one of y'all for playing. Now jumping into a pool. (5/9)
Amber Riley tweets: That's a wrap on Amber Riley! Just closed a chapter in my life, the only thing I've known day in (cont) http://tl.gd/hbngn4 (5/9)
Damien McGinty tweets: I've learned to expect nothing, and appreciate everything. Im so grateful for the opportunity I've had the past year to work with such .. (5/9)
Damien McGinty tweets: Amazing people. Every single one of the cast and crew. Very blessed. (5/9)
Dianna Agron tweets: I don't know all that is to come, but I know what a day like this means. Four years of love, light & support. To the cast, crew & creators. (5/9)
Dianna Agron tweets: And to all of you that have shown your love along the way. We just can't thank you enough. This has always been a very surreal experience. X (5/9)
Lea Michele tweets: Only me @CoryMonteith and @chriscolfer left here today and tomorrow shooting.. (5/9)
Lea Michele tweets: Said our goodbyes to the rest of the cast who wrapped for the season just now.. So proud to work with such an amazing group of people.. (5/9)
Kevin McHale tweets: Starting to hit me that season 3 is done for almost all of us today! So incredibly proud of our crew & cast & creators. (5/9)
Kevin McHale tweets: I'm already having severe separation anxiety, but I'm so excited to see what season 4 brings! Hope you all enjoy the rest of the season! :) (5/9)
Lea Michele tweets: On set now for my last day of #glee season 3! (5/10)
Chris Colfer tweets: Last day of shooting glee season 3 for me! :( Debating what I'm gonna steal from set…maybe Jane Lynch. (5/10)
Lea Michele tweets: Back to work now.. 2 more scenes left to shoot! (5/10)
Matthew Morrison tweets: Just finished my last day on set. Season 3 is a wrap! (5/10)
Chris Colfer tweets: The older you get, the more lighting you require. http://lockerz.com/s/208039331 (5/10)
Lea Michele tweets: Yes! Just the three of us in the choir room… RT @lalafanta: @chriscolfer @msleamichele @CoryMonteith Are you STILL shooting??? (5/10)
Lea Michele tweets: Dont worry season 4 will be here soon! RT @cassidymariem10: I'm sad Glee will be over soon. Oh Glee you have my heart (5/10)
Brad Falchuk tweets:  http://pic.twitter.com/OK9EmFWl (5/10)
Brad Falchuk tweets: http://pic.twitter.com/llzJQP1o (5/10)
Brad Falchuk tweets: Last scene of the season and we've got forty one minutes to finish it. Don't stop believing indeed. (5/10)
Cory Monteith tweets:  just about to start shooting the last scene of season 3! here we go…
Lea Michele tweets: And that's a wrap on glee season 3:) (5/10)
Brad Falchuk tweets: Sweet dreams season three. (5/10)
Brad Falchuk tweets: http://pic.twitter.com/3Cf86doI (5/10)
Brad Falchuk tweets: http://pic.twitter.com/yrU8NwQK (5/10)
Lea Michele tweets: It's impossible to say how much glee means to me. This year has been so amazing & I cannot WAIT for next year:) It's going to be great… (5/10)
Lea Michele tweets: I'm so grateful for our amazing crew and most of all to all of YOU! To all of our gleeks out there you all helped make our show what it is.. (5/10)
Lea Michele tweets: I love you all with all my heart! Can't wait to have an amazing summer and see whats next for Rachel Berry in season 4!!!! (5/10)