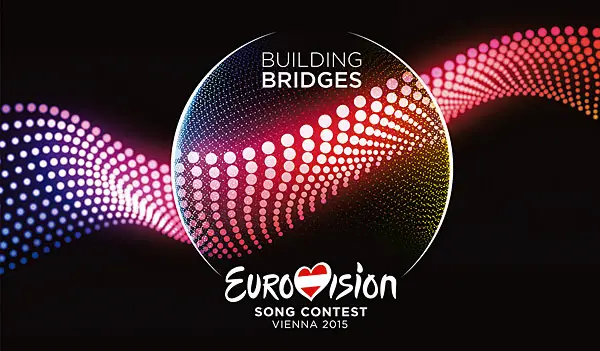 It's time for the annual Eurovision Song Contest! This year, the competition takes place in Vienna. The Semi-Finals Part 1 air on May 19, Part 2 on May 21 and the Grand Finale on May 23. We'll be covering it here, as always. Ozzy D is back with his previews. Mataja will cover the live competitions. Watch for for posts all week!
SEMI FINAL 1
After Queen Conchita's fabulous victory in Copenhagen in 2014, here we are, in Vienna! And I'm back, just like the previous two years to provide power lists and my personal comments on each song in each round.
(Note: Conchita's album is out NOW and it's fantastic! Check it out!)
I'm an 18 year-old Turkish Cypriot, about to (hopefully) move to London in a few months to study Medicine at Imperial College London, but apart from medicine, I am very passionate about music, I love Eurovision to death, I love sharing my opinions and I also love hearing back from others regarding anything I said! So this is the perfect medium for me.
Enough about me. So here's what my rankings are based on:
1- How good the song is in my opinion
2- How good BOTH the studio and the rehearsal versions are
3- How good the singer sounds
4- What the public thinks
5- How it compares to past Eurovision winners/qualifiers.
Here is a quick recap of all the performances in the first semi-final, according to the running order:

Now let's talk a bit about the competition.
My initial thoughts before the semi-finals is that the competition is VERY fierce this year. There are only a few songs in total that I would call 'meh'. The rest is pretty great. Thus, this year is extra unpredictable, so we'll see how my predictions measure up. Also, another conclusion I've reached is that there are WAY too many ballads, and even though they mostly sound good, the show could potentially be a snoozefest. Let's hope that won't be the case.
Another thing I realized is how my rankings kept changing. At some point, the country who ended up 4th on my list was 1st, and there were several other shifts.
One last thing, doesn't anybody find it weird how many friggin male-female duos there are this year? I'm pretty sure it's due to the (undeserved IMO) success of the Netherlands last year. There are some very good ones and some not very good ones both here and in the 2nd semifinal.
16. SERBIA – Bojana Stamenov – Beauty Never Lies
I actually honestly don't know what to say about this song. It's cheesy, it's weird and repetitive, yet the staging is rather interesting. She has ONE HELL OF A voice but I can't see this qualifying. Non-qualifier
15. MOLDOVA – Eduard Romanyuta – I want your love
So, the beat is very catchy. It sort of resembles something to me, but can't figure out what that something is. It's sort of repetitive, and it's not the sort of song that we tend to vote for as Europeans. It's a lower-mid-pack for me, and that's not good enough to qualify in such a competitive semi-final. Non-qualifier
14. F.Y.R. MACEDONIA – Daniel Kajmakoski – Autumn Leaves
Another ballad, and unlike some, a good one. The thing is, Macedonia is usually not a country that is able to collect votes from others. This, combined with the fact that the song is not exceptional, and that the staging of the song is even less exceptional, its chances of qualifying are greatly hindered. Non-qualifier
13. THE NETHERLANDS – Trijntje Oosterhuis – Walk Along
Nice song, beautiful singing, but a bit too repetitive at times. It's also unfortunate that the song doesn't really go anywhere. I have a feeling that it will be forgotten and won't get the votes it needs. Even though I REALLY want Trijntje to qualify, I fear that I may be disappointed. Non-qualifier
12. ROMANIA – Voltaj – De la cap?t / All Over Again
Dear Romania, I like you more when you send upbeat, fun songs that represent your culture. This song is just another ballad, and not one that outshines the others. Not a weak song by any means, just not a great one. The staging is rather 'emotional' but it doesn't have the 'IT' factor to be a frontrunner. Could potentially work its way up, though, depending on how Voltaj manages to connect with the viewers at home (which is crucial when singing a song in your native, non-English language). Non-qualifier
11. BELARUS – Uzari & Maimuna – Time
This song suffers from the same issue that many songs suffer from this year, repetitiveness…The song depends on the vocals being articulate to be as effective as it is in the studio version and I'm not 100% sure that this will be the case on Tuesday. The staging is also so-so, and this is quite a letdown since the video is excellent. YOU SHOULD HAVE BROUGHT THE HUGE HOURGLASS, BELARUS! The song is extremely catchy and the air-violin makes the song. It's not impossible for it to surprise us by qualifying, but it also wouldn't be a surprise if it didn't. ???
10. DENMARK – Anti Social Media – The Way You Are
A very disappointing entry from Denmark. It doesn't go anywhere at all. IF politics play a huge part in the voting this year (it will), they have a rather good chance of qualifying. 1 point/???
9. FINLAND – Pertti Kurikan Nimipäivät – Aina mun pitää
The last time Finland won, it was with Lordi, the monster-masked metal guys. I can see why Finland is trying to go down the same route again and send such a song to the ESC, but this song is horrendous. Repetitive, short (only 1:30), and unlike Lordi, the guys don't have cool masks OR an English song that everyone can have fun to. Finland, though, is a country that has loads of votes from surrounding countries, and the way the song is so different from the others will get it some votes as well. 2 points!
8. HUNGARY – Boggie – Wars For Nothing
Wonderful, wonderful message. Until I watched the video for the second rehearsal, I HATED the song. But it totally grew on me. The staging MAKES the song. It's so emotional and so genuine that it's impossible not to be touched by it. If you asked me last week, I would have said that this would be dead last, but right now, have a feeling it WILL qualify. Off-topic: She REALLY looks like Kate Middleton. 3 points
7. BELGIUM – Loïc Nottet – Rhythm Inside
https://www.youtube.com/watch?v=xV2b3L1K6_c
This is the sort of song you either love or hate. There is an insane amount of similarity between this and Lorde's Royals. I can see this song doing well, as it is a very awkward song in a weird way. Definitely stands out. 4 points!
6. GREECE – Maria-Elena Kyriakou – One Last Breath
I absolutely adore Maria, and I absolutely adore the song. She definitely has one of the top 3 voices in the competition, she looks the part, she performs the part… I was nervous that the song might come off as a bit outdated, but again, after the rehearsals, she proved me wrong and showed me how it's done! Greece to the finals! Note: I would have ranked her higher, but the standard gets really high after this point. 5 points
5. ARMENIA – Genealogy – Face The Shadow
This song is absolutely gorgeous. All the singers have amazing voices, and I can see it doing very well. I especially love the constant build-up all throughout the song to a strong ending with a strong impact on the audience. This comes across extremely well with the staging. The verses sound a bit too much like a Disney princess song, but so did Ukraine's song last year to me, and it did well. Also, the song has a strong message about the Armenian Genocide (which is a hot topic in the EU right now as 2015 is its 100th anniversary) and will gather them some votes. I am almost certain that this song will do well. 6 points!
4. ESTONIA – Elina Born & Stig Rästa – Goodbye To Yesterday
A real contender for the title. Admittedly, the studio version is MUCH better than the live version, mostly because of the guy. The song is dark, but at the same time, it has a certain coolness to it that I love, and I'm sure everyone who watches ESC will as well. Reminds me of a much better version of the song the Netherlands sent last year. (sorry, I hated that song, I don't get why it was the runner-up and I'm still not over it). I'm a huge fan of the brass section at the end of the song. Helps a lot setting a cool mood for the song. I totally love it! 7 points!
3. RUSSIA – Polina Gagarina – A Million Voices
Year after year, Russia comes to the contest with solid attempts. Another gorgeous, uplifting ballad, and this one will without a doubt be a frontrunner. The staging is fantastic and her vocals are even better. Coupled with a Eurovison-esque song that doesn't sound like an overkill, this song is destined to rank high. 8 points!
2. ALBANIA – Elhaida Dani – I'm Alive
A real frontrunner for the first semi-final. Here are some reasons why. She performs close to last, which is always good as people will remember her performance. Her voice is out of this world. She is well-known in Italy (The Voice Italy Winner!), and some other European countries. The song has a tendency to grow on the listener. The first half of the song sort of gets boring but the second half of the song is absolutely gorgeous. As someone mentioned on YouTube, the song has Spanish influences and has a beautiful musical structure. I can see her performing the song very well, and shining her way through the semi-final to obtaining a good place in the final. I'm not entirely seeing a winner just yet, but who knows. Semi-off-topic: The Albanian version of this song is much better. 10 points!
1. GEORGIA – Nina Sublatti – Warrior
Georgia is coming to bring the trophy home! The song is gorgeous, the staging is so amazing that it will knock your socks off, her vocals are too good to be true, and I can see it willing the first semifinal IF NOT the entire competition! I have high hopes for this song. 12 points!
So, I hope you enjoyed my power-list for the first semi-final of the most anticipated event in Europe – Eurovison!
Please tell me what you think by commenting below, and also check back to see my 2nd semi-final and final rankings on Wednesday and Friday respectively!