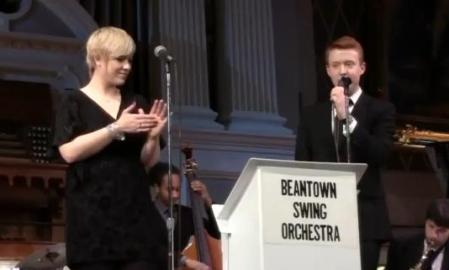 Those of you who watched American Idol 3 in 2004 surely remember the red-headed crooner, John Stevens? After releasing an album on Maverick Records, the young singer headed to Berklee School of Music in Boston. After graduation, John settled in the area and is now singing standards with the Beantwon Swing Orchestra.
Season 11 alum, Erika Van Pelt, who resides in Providence Rhode Island, joined forces with John and the orchestra to perform "Home for The Holidays" at Mechanics Hall in Worcester MA Wednesday night (Nov. 28).
If you like what you hear, you can check the duo out at The VETS in Providence on December 9. Season 11 Semi-finalist, Jen Hirsh (also a Berklee alum) will also perform with the orchestra. More information can be found HERE.