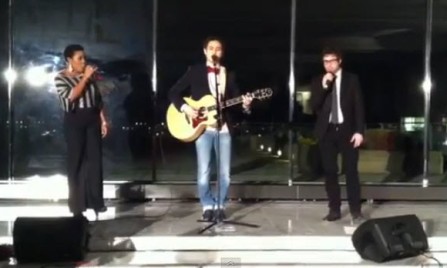 Elliott Yamin, Melinda Doolittle and Jason Castro were in Washington DC Wednesday to promote Malaria No More, an organization dedicated to ending deaths by malaria in Africa by 2015.
The trio spoke to members about the cause and then took to the stage later that evening to perform.
The American Idol alum's involvement with the organization began with the Idol Gives Back charity. Elliott had gone to Africa to distribute life saving bed nets.
"I had the distinct honor of going to the front lines where malaria is a real issue," Elliott told The Daily Caller, "and see firsthand not only how much of an epidemic it is. but how much of an impact that we … have made tangibly."
Watch their performances below.  "Hallelujah" is beautiful…
Jason Castro performs.  Elliott and Melinda join Jason to sing "Hallelujah"
Elliott Yamin sings "Wait For You"
Melinda Doolittle sings "People Get Ready"