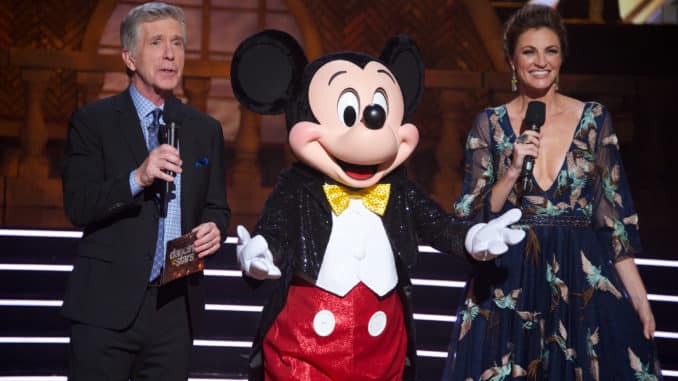 Hey All :)
Welcome to ABC corporate synergy night, also known as "Disney Night" on Dancing with the Stars. Some of your favorite classic and current Disney films will be celebrated as the celebrities and their professional partners dance in all new routines. Jazz and Contemporary dances will also be introduced to the competition for the first time.
Last week, Lamar Odom and his partner Peta were eliminated, with Karamo and Jenna joining him in the bottom two. We are guaranteed some results tonight but perhaps another non-elimination surprise. The show did not boot anyone last season during Disney Night, so it wouldn't be a shock if they decide to save both parties in the bottom and have all the scores added to next week. For my money, I hope we actually do have an elimination. It is time to narrow this field in this, week five!
Let's sit back and see who is blessed with some Disney magic this week and who fails to take us on a carpet ride. I know….lame. But hey, I'm trying to keep with the theme. :)
We begin with a huge Disney inspired number featuring…well, everyone. The stars, celebs, and various Disney characters are all performing. Obviously, this was pre-taped at an earlier time. Still fun though and exciting to watch. As expected, the celebrities have minimal dancing to do in that. Zach Woodlee choreographed that opening from Disneyland resort.
https://www.youtube.com/watch?v=NeLDxCKrrHY
Sailor & Val – Viennese Waltz
EXTRA LONG rehearsal packages this week. Gotta get that Disney cash flowing. Very pretty. Lovely viennese waltz here. Gliding around the floor, great rise and fall, no unsteady movement in the turns, and solid while in-hold. A very appropriately choreographed routine as well. I usually bark about having so many other dancers in a number but it fit here as it looked like Sailor & Val were really in a ballroom playing the characters. Good opening.
Len thought it was light and fluffy. He wanted a bit more in hold. He tells her she will definitely be back next week. Bruno was impressed by the acting from Sailor tonight. Carrie Ann says it was like watching a flower full blossom. She called it an amazing dance.
Carrie Ann- 8
Len- 8
Bruno- 8 for 24/30
https://www.youtube.com/watch?v=SD0Xnt3f45Q
Karamo & Jenna – Samba
Decent job here from Karamo. These last two weeks have been much better for him overall. He still has moments where he looks to be unsure of what comes next or the move comes off a bit sloppy or under-rehearsed but so much better than anything he did in the opening weeks of the competition. Some great side by side stuff here with Jenna, which, not really samba technically, added to the overall flare of the dance. Gotta cut the choreographers a little slack this week because they are putting numbers together that not only show off their partner but tell a story that the producers want with the theme.
Bruno says he attacked the ensemble part like a leader but he was slightly behind when in-hold with Jenna. Work on the elasticity, Bruno notes. Carrie Ann agrees. She feels the bounce was non-existent. She loves watching him dance though. Len found it joyful but his feet are the problem. He tells him he will be kind though tonight and says well done. LOL.
Carrie Ann- 7
Len- 7
Bruno- 7 for 21/30
https://www.youtube.com/watch?v=OaFGk4qalNQ
Kate & Pasha – Jazz
I cringe when this show introduces jazz because it is never actually proper jazz. It is basically whatever the dancer wants to do. Kind of freestyle-ish with moments of limited jazz movement thrown in. But it is what it is. Let's discuss Kate. If there was ever a contestant on the show to have to do a tribute to Mary Poppins, it is Kate. I wasn't exactly won over by the choreographer- seemed to lean way too comical for my taste but Kate executed what was asked of her and she did so well. She was, as expected, in character and looked to be having a blast. A definite improvement over last week.
Carrie Ann says it was so well rehearsed. And CARRIE ANN FELL. Yup. LMAO.
https://youtu.be/JcsqBojbz8g
Good grief. Len enjoyed seeing some polka, charleston, and quickstep. Bruno says it had a musical feel with Kate's own personality. He says well played.
Carrie Ann- 8
Len- 8
Bruno- 8 for 24/30
https://www.youtube.com/watch?v=le729D2vi98
Sean & Lindsay – Quickstep
Thank goodness for Lindsay. She can really do anything with anyone on this show. Okay, so it wasn't the quickstep you are used to seeing. It was more a quick-ish quickstep and Sean had his usual problems of sometimes getting out of sync with Lindsay and sometimes just stomping around. But this was a way longer dance than he is used to and for the most part, it wasn't a complete and total misfire. It was, arguably, his best dance on the show thus far.
Len noticed some heel leads, pretty good frame, no easy route with messing around but he tells him he still has a ways to go. Bruno says it was better and he could see the effort. Carrie Ann calls it his best dance. He says it matched his personality and the choreography wasn't made too easy.
Carrie Ann- 7
Len- 6
Bruno- 6 for 19/30
https://www.youtube.com/watch?v=z4o9t9PmMz8
Ally & Sasha – Contemporary
That was one hell of a chaotic routine. It was like Sasha went back and watched every contemporary routine he has done and decided to include everything. It had no real narrative for me and just jumped from move to move. That being said, Ally did what was asked of her and I can't fault her dancing here for the choreography. She was in character and emotional when needed, so props to her.
Bruno says she gave them happiness and she throws herself into it totally. Carrie Ann loves that she goes one hundred percent and she dances from her heart. Len calls it smooth like butter on a hot muffin. He felt the emotion throughout.
Carrie Ann- 9
Len- 9
Bruno- 9 for 27/30
https://www.youtube.com/watch?v=QSzSInMoL-4
And now, from Frozen 2, a performance by newest pro, Daniella, along with others, as they dance to the song "Into The Unknown." Daniella, of course, is portraying Elsa. Because Disney. Because of course. :)
https://www.youtube.com/watch?v=MTYLqJnVMtE
Lauren & Gleb – Samba
Very fun. I was all smiles throughout that number. I loved how it came together. It had samba rolls too! I have been waiting for those. Lauren plays her part on this show very well- always committed to character and giving one hundred percent. And I felt Gleb did enough here choreography wise to make it memorable. One of my favorite overall performances of the night. Just a really swell time.
Carrie Ann says the samba is one of the hardest to get. She feels Lauren had the bounce though she also had some weird arms. Len liked that there was a lot of samba content. He says she went wrong in the running promenades. He says too much was going on on occasions but he calls her a nice dancer. Bruno calls it a nice samba but with some mistakes.
Carrie Ann- 8
Len- 7
Bruno- 8 for 23/30
https://www.youtube.com/watch?v=vz1p0BoA2pE
Kel & Witney – Jazz
Was that jazz just now or freestyle? Wow. Talk about extending the definition of jazz. Kel has always done a little freestyle and hip-hop in his dances so he excelled here being able to do almost all of that. But…. come on now. Are we supposed to be keeping with the style at all? If some of these couples had to be bogged down by the rules of a samba or quickstep, I would like jazz to be followed as well, even a little. But good on Kel I guess. I cannot fault the dancer if the choreographer (and show) are putting together the content. He did what he was asked to do and did it well.
Len thought it really suited Kel and says well done. Bruno says Kel was in the zone. He calls him a revelation tonight. Carrie Ann says he led the number. She is very happy. Quick judges comments and all very pleased.
Carrie Ann- 9
Len- 8
Bruno- 9 for 26/30
https://www.youtube.com/watch?v=bdyTdQwbOCQ
Hannah & Alan – Foxtrot
Do pretty. Very similar to Sailor's dance in elegance. I thought Hannah was much better here on her turns than she has been previously. No obvious wobbles or lack of core strength. It was a basic foxtrot but that's not a knock on it. It was enjoyable for what it was- just good dancing around the ballroom to a lovely song with both dancers looking fantastic and doing a very good job.
Bruno couldn't see the footwork because of the fog but he thinks it was fantastic. Carrie Ann calls it a stunning showcase of an amazing dance. Len calls her a lovely dancer and tells Alan he needed more in-hold because she is really good in-hold.
Carrie Ann- 9
Len- 7
Bruno- 9 for 25/30
https://www.youtube.com/watch?v=fj-JaBLynxQ
James & Emma – Paso Doble
Very strong paso. Great masculine energy throughout. Lots of strong steps and great arms. Perfect song and theme going together. It really felt like a Matador type routine, which is what the dance is based on. James sold the character brilliantly. A slight mishap when he jumped to the floor in the middle but you had to really be paying close attention to catch it. Strong finish to Disney night for sure.
Carrie Ann called it insane and loved the energy between the two. She tells James it was his dance. Len says it was dramatic, strong, with aggression, but he wanted his arm to be a bit sharper. Bruno calls it a powerful performance and a big hit. He calls this season unpredictable and exciting.
Carrie Ann- 9
Len- 8
Len- 9 for 26/30
https://www.youtube.com/watch?v=3a9p8-ky2NQ
Week Five Leader Board
Ally- 27
Kel- 26
James- 26
Hannah- 25
Sailor- 24
Kate- 24
Lauren- 23
Karamo- 21
Sean- 19
I feel like the judges got a whole lot wrong tonight in terms of scores. But I get it. Disney night- so make everything a huge production and make sure all the scores are decent because this is Disney and ABC. Fine. Whatever. Let's see if they eliminate someone or keep the "magic" going and announce no boot.
OY. They are showing a package of all the celebs saying how much they want to stay. Well, with this huge waste of time, how could they possible eliminate anyone?
The following couples are SAFE………………
EVERYONE. Because of course. And we don't get to see who WOULD HAVE BEEN the bottom two. That's annoying. I wanted to see which couples were in danger. Damn. So the scores and audience votes carry over to week six, in which everyone returns to dance again.
POLLS going up later/tomorrow. I thank y'all for watching with me tonight. Another Disney night in the books. More money for ABC. LOL. I kid… but not really. Have a great week everyone. :D